As online sports betting continues to grow in popularity across the United States, a shared priority among all sportsbooks has been ensuring users comply with local laws and regulations set forth by gaming regulatory agencies. GeoComply, in particular, has emerged as a critical tool that helps accomplish this goal by allowing sports betting sites to verify the location of all customers in real time with pinpoint accuracy.
In this article, we'll take a closer look at GeoComply and its use in the world of online betting. You'll learn how geolocation technology works, explore the benefits it offers to sportsbooks and bettors, discover some helpful troubleshooting tips, and get answers to all your pressing questions about GeoComply.
What Is GeoComply & How Does It Work?
GeoComply is a location detection software commonly used by online sportsbooks, online casinos, and daily fantasy sites. It allows platforms to verify the location of customers and ensure that all wagers are being placed in a state or jurisdiction where they are licensed and operating.
The geolocation technology uses a combination of GPS tracking, Wi-Fi triangulation, and IP address analysis to accurately pinpoint the location of each player accessing an online gaming site. If GeoComply detects that a bettor is not physically located in an eligible state or is unable to determine their location, it will prevent all wagers from being placed on the platform.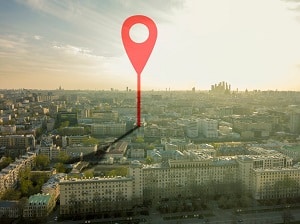 The GeoComply Player Location Check plugin is necessary for customers who wish to make bets from their laptop, desktop computer, or any other device that doesn't have built-in GPS, Bluetooth, or Wi-Fi location services. Therefore, most online US sportsbooks (DraftKings, FanDuel, BetMGM, etc.) will require you to download the GeoComply plugin when you visit the site and are ready to place your first bet.
Meanwhile, it is generally not necessary for iOS and Android users to download the GeoComply Player Location Check plugin since mobile devices and betting apps already have built-in GPS, Bluetooth, and Wi-Fi location services. However, you may need to manually turn on location services or enable Wi-Fi in your device settings to ensure your preferred sportsbook has access to your location.
Why Online Sportsbooks Use Geolocation Technology
Online sportsbooks primarily use GeoComply to comply with state and federal regulations. Although sports betting is now legal in roughly two-thirds of U.S. states, there are still plenty of states that currently prohibit the practice or have specific restrictions or strict limitations in place. For example, several states (e.g., Mississippi and Washington) require that all online sports betting take place on the property of licensed casinos.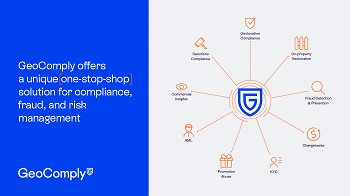 In addition, geolocation technology helps to prevent fraud and protect the integrity of a sportsbook's operation by detecting and preventing location spoofing through the use of virtual private networks (VPNs). Many bettors in states that have not yet legalized sports betting will use VPNs to redirect their location and start placing bets; however, many sportsbooks use GeoComply to recognize this trickery and will ultimately ban the offender's account and make them forfeit all winnings.
Overall, the vast majority of online sportsbooks use GeoComply to accurately determine the location of all their customers and allow those in eligible states and jurisdictions to start placing wagers on all their favorite teams, sports, and leagues. Other reasons worth noting include establishing a secure and reliable gaming platform, preventing underage gambling, and ensuring adherence to licensing agreements with gaming regulatory authorities in each state.
How To Download & Install GeoComply
When you first sign up for an online betting account with your preferred sportsbook, you will need to allow the site to verify your location. As previously mentioned, mobile apps offered by sportsbooks generally have built-in GPS, Bluetooth, or Wi-Fi location services, meaning they do not require you to download the GeoComply Player Location Check plugin.
However, if you prefer to use your laptop or desktop computer, you will need to download the GeoComply plugin before you can start placing bets. Most sportsbooks will invite you to download GeoComply and walk you through the process upon your first visit to the site. The general steps to follow to download the plugin are listed below!
Click the link provided by your sportsbook to download and install the Player Location Check plugin. Make sure you choose the option that is compatible with your device (e.g., Mac or Windows).
Disable or remove any Remote Desktop Programs or Virtual Private Network (VPN) software that could potentially restrict or mask your location on your device.
Fully connect to Wi-Fi, and verify that the Player Location Check plugin has been installed and set up on your device.
The GeoComply Player Location Check plugin will run as a service in the background of your computer to pinpoint your location in real time. You may now start placing bets on all your favorite players and teams. Enjoy!
If you have problems, you may contact your sports betting site's customer support team via phone, email, or live chat. They will be able to answer your questions or resolve any issues that may arise.
GeoComply Troubleshooting Tips for Sports Bettors
If you're having problems verifying your location with GeoComply, take a look at some general tips and tricks that may solve your problem!
Uninstall & Reinstall GeoComply: The classic "unplug and plug it back in" technique is always worth a shot. In this case, you can uninstall and reinstall the Player Location Check plugin to see if it will fix any minor issues or bugs.
Disable Proxy, VPN, or DNS: GeoComply may flag any VPN, DNS, or Proxy services as attempts to hide your true location, which can cause problems with the geolocation process. As a result, you will want to disable any software of this nature in your device settings.
Check Your Internet Connection: A stable and reliable internet connection is often required for GeoComply to accurately determine your location. Therefore, you will want to make sure you have enabled Wi-Fi on your iOS, Android, Mac, or Windows device.
Enable Location Services: For GeoComply to verify your location, you will need to allow access to the location data on your device. Navigate to your device settings, and provide access by enabling "Location Services."
Contact Customer Service: If you are still having issues, reach out to GeoComply or your preferred sportsbook and seek help from their customer support team.
Make Sure Sports Betting Is Legal in Your State: Sports betting laws and regulations can be quite complicated and are constantly changing. Double-check your state's laws and make sure online or mobile sports gambling is currently available in your location.
Sports Betting Geolocation FAQ
How Do Sportsbooks Know Your Location?
Online sportsbooks verify the location of their bettors using GeoComply and other location detection software to ensure all wagers are placed in compliance with each state's laws and regulations.
Can I Use a VPN for Sports Betting?
Sports betting platforms do not allow their customers to use virtual private networks (VPNs) to spoof or mask their location. GeoComply can often detect VPN use, and the majority of sportsbooks will ban the account and forfeit all winnings of those who are found to be guilty of this practice.
Why Is GeoComply Not Working?
The GeoComply Player Location Check plugin may not be able to verify your location as a result of connectivity issues, detection of a VPN or Proxy, or location services not being enabled.