The Indianapolis Colts will kick off Week 10 of the NFL season on Thursday night against the Tennessee Titans.
You will kick off Week 10 with a winning bet courtesy of PointsBet Sportsbook if you are a user in the state of Indiana.
It's about as simple as it gets this week over at PointsBet. We like to say that there are no locks in sports betting, but every time one of these promotions comes along, we wind up having to contradict that statement. That is the case this week thanks to the "On The House Booster" promotion from PointsBet.
This promotion gives you the opportunity to turn $25 into $50 with virtually no downside risk. All you have to be is have an account with PointsBet Indiana and put $25 on the game between the Colts and Titans on November 12.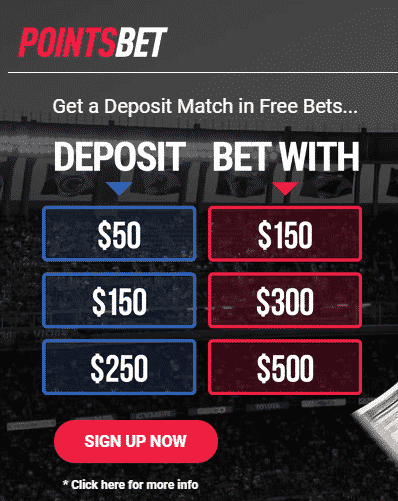 Why 41?
Back in 2006, the Colts beat the Bears in Super Bowl XLI. For those that don't know their Roman numerals, XLI = 41. So, with that memorable year in mind, PointsBet Sportsbook has boosted the Colts to +41 for Thursday's game against the Titans.
Dating back to 2000, the Colts have lost by more than 41 points one time. That was Week 7 of the 2011 season against the New Orleans Saints. It was a 62-7 drubbing. That was a 2-14 Colts team led by Curtis Painter, Dan Orlovsky, and Kerry Collins. This is not a 2-14 Colts team. Far from it.
So, you'll turn your $25 into $50 at PointsBet Sportsbook this week on that game. Not a bad way to start Week 10, right?
The catch is that you have to be a PointsBet Sportsbook user in Indiana. If you already are, well, you're in good shape. If you aren't, that means you need to sign up and make a deposit by Thursday.
The good thing is that we have two bonus options available for you at PointsBet Sportsbook.
A Deposit Match Bonus Up to $250
Up to $1500 in Risk-Free Bets with up to $500 on your first fixed odds wager and up to $1000 on your first PointsBetting wager
The great thing is that you don't have to live in Indiana to use PointsBet Sportsbook in the state. While it is a whole lot easier if you do live there, you can live in Ohio, Kentucky, or Michigan and simply go across state lines to access your account and make a deposit. You can use a PointsBet Indiana account as long as you are physically located in the state and you can sign up from anywhere.
Ask yourself, is it worth it to get a great sign-up bonus and a free $25 on the Colts +41? If the answer is yes, and it should be, then the time is now to sign up for PointsBet Sportsbook.
GET A DEPOSIT MATCH BONUS UP TO $250 FROM POINTSBET SPORTSBOOK