We're just a week away from the final match in the trilogy between Stipe Miocic and Daniel Cormier, but don't let that distract you from the fact that we've got a UFC event this weekend. UFC on ESPN+ 32 at the UFC APEX facility in Las Vegas has a lot of good fights, including the main event between Derrick Lewis and Alexey Oleinik.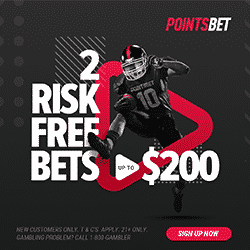 PointsBet Sportsbook is all over the UFC card for this weekend, including a terrific boosted odds promotion. If you like Lewis in the main event against Oleinik, you can take advantage of a UFC Super Booster to get the favorite at -120 to win by KO/TKO. The max bet is $50 and you can find it in your Booster Hub.
Lewis is a -195 favorite in the fight and we know that knockouts and TKOs are very frequent in the heavyweight division. Lewis is 23-7 in his career with 18 knockout wins. His last two fights have gone to a decision, but one of those was a calculated performance against Blagoy Ivanov, who had never been knocked out before, and Ilir Latifi had only been knocked out once in his last five fights.
Oleinik was knocked out twice last year by Walt Harris and Alistair Overeem and both came in the first round. Harris's KO was just 12 seconds into the first.
This is a better matchup for Lewis to get a knockout as well. Oleinik stands 6-foot-2. Lewis is 6-foot-3. His two most recent opponents, Ivanov and Latifi, were both much shorter guys at 5-foot-11 and 5-foot-10, respectively. As a result, Lewis was punching down more instead of on a straight line or up, which would certainly limit the knockout potential.
In other words, the chances are high that Lewis can win via KO/TKO and you are getting the UFC Super Booster price for that at -120 exclusively at PointsBet Sportsbook.
PointsBet Sportsbook is available for bettors in Indiana, New Jersey, and Iowa. If you don't already have an account and want to sign up to take advantage of this promotion, or a promotion like the Crowd Booster odds for Pacers vs. Lakers on Saturday, you'll also get up to $1,500 in free bets if you sign up through us at ATS.
That Pacers vs. Lakers line is all the way up to +26 and you'll get the closing line, so that promotion is definitely worth signing up for if you live in Indiana. That is a state-specific promotion.
The Lewis one is not, so sign up and get your UFC Super Booster odds today!