SportsBetting.com is home to one of the best deposit bonuses in Colorado. The Risk-Free Week up to $1,000 is a promotion that a lot of ATS readers have taken advantage of in recent months. To celebrate the holidays, though, SportsBetting.com has an even sweeter Welcome Bonus offer going on for new sign-ups that will run through January 11.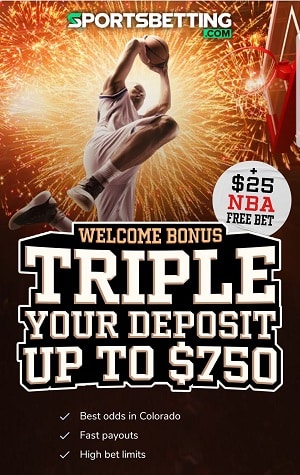 The Risk-Free Week has been replaced by a Triple Your Deposit Welcome Bonus from the fine folks at SportsBetting.com. This new offer started on December 22 at 12 a.m. MT and will run through January 11, 2021.
You can deposit up to $250 and triple your deposit to get $750 on your initial investment at this special Colorado sportsbook. Not only that, but you'll also get $25 free bets to celebrate the start of the NBA season.
This change is temporary, as the Risk-Free Week promotion will return on January 12, but this is an even better offer and one that all users should look to utilize over the holiday season and on into 2021, which all of us hope will be a better year.
From a sports betting standpoint, you can set yourself up for success with SportsBetting.com. Consider this a New Year's Resolution of sorts to sign up, make a deposit, and then Triple Your Deposit with bonus funds.
The Customer is King at SportsBetting.com. It says so right on the home page. You have to appreciate a place that is willing to treat each and every customer like a VIP. This certainly is a VIP-level bonus offer from SportsBetting.com, so why not allow yourself to be treated like royalty?
SportsBetting.com has fair lines on all of the sports betting markets that are offered, including, but not limited to, the NBA, NFL, college basketball, college football, and NHL. All of the major markets are listed, along with UFC, soccer, tennis, golf, motor sports, and everything that you would expect to be available at any sportsbook.
Another really nice feature of SportsBetting.com is that they have a lot of tools and resources in place to make sure that you don't overdo it with your account. Responsible gaming is promoted across the site and you can place limits on yourself to ensure that you are not going overboard.
To their credit, SportsBetting.com also has lots of safeguards in place to protect you and your sensitive information with state-of-the-art encryption technology and cybersecurity. That is always such an important set of questions for sportsbooks to answer and the answer is loud and clear from SportsBetting.com that you, your money, and your information will be safe.