PointsBet Sportsbook has announced 30 days of making it rain on the college basketball betting hardwood and it is the best way to spend your time prior to the start of March Madness.
Paige Spiranac is part of the PointsBet family and the Make It Rain game of the day is at her choosing. This one is good across all jurisdictions and is the highlight promotion this week and every week up until March Madness starts from our friends at PointsBet.
It isn't the only promotion, but it is the one that will draw the most attention to say the least.
Before we talk about the promotions at PointsBet, let's talk about the sign-up bonuses. You have two options:
Option 1: Get up to a $250 Deposit Match Bonus
Option 2: Get up to $1,000 in Risk-Free bets with up to a $500 Risk-Free wager on your first fixed odds bet and up to $1,500 Risk-Free on your first PointsBetting wager.
Get up to a $250 Deposit Match Bonus
Pick your bonus and start betting with PointsBet today in Colorado, Illinois, Indiana, Iowa, Michigan, or New Jersey.
Now, for the promotions:
College Basketball
Golfer, model, and PointsBet social media titan Paige Spiranac is offering up a great promotion for college basketball bettors that are located in states where PointsBet offers legal sports betting. This is a good one.
Paige's Game of the Day Make It Rain
Across all PointsBet jurisdictions, you can Make It Rain with Paige Spiranac's Game of the Day. The game is announced every day at 12 p.m. ET on the social media channels of PointsBet and also Paige's official social media accounts, but you can find it highlighted on the website after then as well.
Place a $50+ bet on the spread of Paige's Game of the Day and receive $3 in Free Bets for every three-pointer made by the team you bet on in that game.
Additional promos from Paige are available weekly in golf as well, but this college basketball one is the highlight promotion to be sure.
NBA
The NBA is still going on, though college basketball has started to take center stage. PointsBet hasn't forgotten about the Association.
Single Game Parlay Insurance
Place an NBA Single Game Parlay with 3+ legs and receive money back up to $25 if exactly one leg fails.
NHL
PointsBet Sportsbook recently became a part of the NHL family as the league purchased some interest in the Australia-based operator that makes its home in Denver. NHL Overtime Insurance is their gift to you.
NHL Overtime Insurance (CO, IL, MI ONLY)
In Colorado, Illinois, or Michigan, receive up to $50 back in Free Bets when you place a pre-game money line wager on a team that loses in overtime or a shootout. This promotion applies to all NHL games.
PointsBet Sportsbook is one of our top-rated sportsbooks for things like their Parlay Insurance in Colorado, their daily and weekly promotions, and the overall user experience. Give them a try today!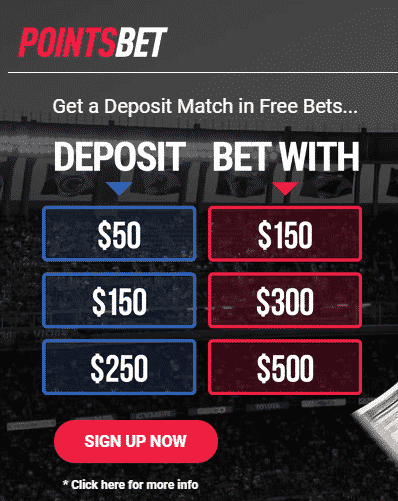 Parlay of the Day
Bettors love parlays. PointsBet loves its customers. As a result, the Parlay of the Day promotion has been created in which you can Create Your Own Parlay Booster. Build a personalized 3+ leg parlay and the payout price will be boosted.
In-Play Parlays
You asked and PointsBet answered. You can now put together live betting parlays over the course of a game on the PointsBet App and on the website. For now, this promotion is only valid in New Jersey, but that would seem to be the test market for other states.
SIGN UP AT POINTSBET SPORTSBOOK AND GET YOUR NEW USER BONUS TODAY!