We've bid adieu to Major League Baseball, but the NFL and college football seasons provide more than enough solace. We also have golf, tennis, soccer, and a whole lot more to look forward to on the horizon.
We don't have that far to look when it comes to PointsBet Sportsbook because a new round of promos has popped up. Look for local promotions that suit your needs in Indiana, Illinois, New Jersey, and Iowa with PointsBet, as you can get some outstanding chances at free bets or boosted odds.
We've talked already about No Juice Saturdays on the NFL from PointsBet, which is an ongoing promotion, but additional offers are also available this week depending on the state in which you use your PointsBet Sportsbook account.
Before we get into the specific promos for this week, let's hit on the sign-up bonuses you can get at any time by going through us at ATS.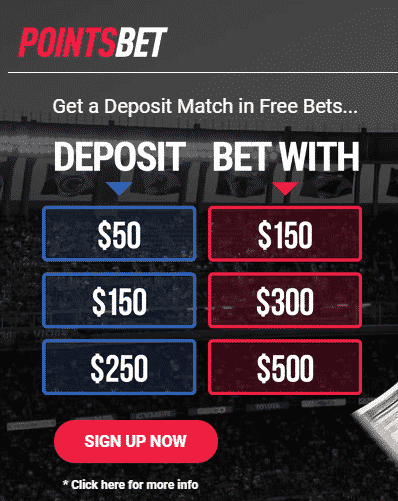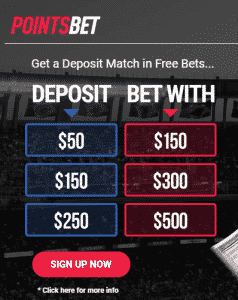 The first is a Deposit Match Bonus up to $250. Deposit $50 and you'll get $100 in bonus money. Deposit $150 and you'll get an additional $150. Deposit $250 and you'll get an additional $250. It's that simple if you sign up with the Deposit Match Bonus offer.
The other is up to $1500 in risk-free bets. You'll get up to $500 insurance for your first fixed odds bet, so if you lose up to $500, you'll get it back. You'll get up to $1000 in insurance for your first PointsBetting wager, so if you lose up to $1000, you'll get it back. You won't get back cash if you lose, but you will get PointsBet Free Bets. If you win, then you simply get your winnings.
Without further ado, let's take a look at what PointsBet has going on this week:
$100 Refund – Indiana Only
Shout-out Indiana, this one's for you. PointsBet will refund 100% of net losses up to $100 in Free Bets for wagers placed between 10/23 and 10/31, so you'll be able to get up to $100 back if you have a bad week.
NFL
We have a really interesting card in the NFL this week with a lot of games that have close betting lines. It should be a fun one. You know you are going to be involved, so why not utilize some of these great NFL promotions?
Single Game Parlay
PointsBet is pleased to roll out the new Single Game Parlay option for users in New Jersey and Indiana. You can now parlay multiple bets in a single NFL game, including the spread, total, player props, team props, and more!
Best Price Money Line & Spread
In Illinois with the Bears, and in Indiana with the Colts, PointsBet offers reduced juice odds on the spread at -105 and better odds than the competitors on the money line for all games involving those two teams.
Make It Rain
You've got two chances to Make It Rain this week at PointsBet. Place a minimum $25 pregame bet on the QB passing yards market on these select games and get $6 in free bets for each touchdown pass thrown by the quarterback you wagered on:
10/29 Atlanta Falcons vs. Carolina Panthers
11/1 Dallas Cowboys vs. Philadelphia Eagles
With some uncertainty with Andy Dalton and Ben DiNucci, maybe you'd rather focus on Matt Ryan, Teddy Bridgewater, and Carson Wentz for this bet, but keep in mind that you don't have to bet the 'over' on passing yards to still get your $6 free bets for each touchdown thrown.
In-Play Bet Match
Make a live, In-Play wager on one of the games in the 1 p.m. ET window on November 1 and get 50% Matched Free Bets up to $25.
For those in Indiana specifically, you can get a $40 Free Bet when you place five In-Play bets of at least $20 Monday through Friday that can be used over the weekend.
College Football
Some Big Ten college football promotions are listed this week at PointsBet Sportsbook for you to check out.
Indiana Crowd Booster
The beloved Hoosiers take on the Rutgers Scarlet Knights this week following a dramatic win over Penn State. Support your Indiana University bunch with the Crowd Booster promotion for the October 31 game.
For each 200 bets on the Indiana money line, the price will move in the bettor's favor. At time of writing, the line was down from -420 to -250 and it will keep moving. The best part? You get the closing line, which means you'll be getting better than even money odds on Indiana to win the game as a double-digit favorite. The maximum bet amount is $20.
This promotion is for Indiana only.
Make It Rain
College football style. The Make It Rain promotion applies to three games in the Big Ten this weekend across all jurisdictions. Place a minimum $25 pregame bet on the QB passing yards market for any of these six quarterbacks and you'll receive $6 in free bets for each touchdown pass.
The games are:
10/30 Minnesota vs. Maryland
10/31 Ohio State vs. Penn State
10/31 Michigan State vs. Michigan
In-Play Bet Match
Just like the NFL, make a live, In-Play wager on any college football game on Saturday October 31 and receive a 50% Matched In-Play Free Bet up to $25.
Best Price Spreads
For PointsBet users in Indiana, you will find the best spread odds on all Indiana, Purdue, and Notre Dame games with -105 on the spread all season long.
Soccer
It is a big weekend in soccer with another round of fixtures in Europe. PointsBet Sportsbook will be there every step of the way offering betting odds and live, in-play action on your favorite teams.
Two-Goal Lead
This is a great promotion from PointsBet for your action on the pitch. Place a pregame Match Result (no draw) bet any La Liga game or any English Premier League game on October 30 or November 2 and get paid out your winnings on the first $50 staked if the team you bet leads by two at any points in the game.
Golf
The Bermuda Championship is this week's PGA Tournament and PointsBet Sportsbook has not forgotten about golf betting.
In-Play Match Bet
Place an In-Play bet on any market and get a Matched In-Play Golf Free Bet up to $25 to use during the tournament.