It would be a stretch to say that things are getting back to normal in the sports world, but we're pretty close to the regular January schedule.
The NHL is back. The NBA is playing. College basketball is going on. We're on schedule with the NFL Playoffs. Any shred of normalcy from the last 10 months of hell cannot be taken for granted these days.
PointsBet Sportsbook has a lot of promotions for users this week, including several for the start of the NHL season. While the promos are puck-heavy, that's not all that we've got this week, as PointsBet is running back the No Juice NFL Spread Betting promotion for the Divisional Round.
Before we get to the nuts and bolts of this week's promotions, we have to talk about the ongoing sign-up bonus offers from PointsBet. PointsBet Sportsbook is in Iowa, Colorado, New Jersey, Indiana, and Illinois.
You can choose one of two sign-up bonuses depending on the link you click.
The first is a 100% Deposit Match Bonus up to $250. The second is up to $1000 in Risk-Free Bets, with $500 on your first Fixed Odds Wager and $500 on your first PointsBetting Wager.
The choice is yours, but the one choice that is clear is that now is a great time to sign up at PointsBet Sportsbook.
NFL
The Divisional Round of the NFL Playoffs is here. The winners of this weekend's games will be one enormous step closer to Super Bowl LV. Rams vs. Packers, Ravens vs. Bills, Browns vs. Chiefs, and Buccaneers vs. Saints are our four games and PointsBet Sportsbook has an industry-leading promotion for the games.
No Juice Spreads
PointsBet Sportsbook is running the No Juice Spreads promotion again for this round of the NFL Playoffs. The max bet is $10,000 on sides and the no juice lines will be available beginning Thursday morning.
All games for the Divisional Round will either be at +100 or will be equivalent, like -110 on one side and +110 on the other side or -105 and +105. This is a huge promotion and a huge offer from PointsBet Sportsbook. You won't find a better place to bet this weekend's NFL playoff action.
Single Game Parlay Insurance (CO, IA, IN, NJ)
Place a Single Game Parlay bet on any NFL game with three or more legs and receive money back up to $25 if exactly one leg of your parlay fails. This promotion does not apply in Illinois. You can do this once per day during the Divisional Weekend.
NHL
The start of the NHL season has been welcomed with open arms by PointsBet. Their US headquarters are in Denver, Colorado and the Avalanche have a great chance to make some noise this season. Chicago, Illinois is another big market for PointsBet and the Blackhawks feature prominently with this week's promotions.
NHL Overtime Insurance
This is maybe the best promotion for the NHL in the entire US sports betting industry. Nothing is harder than losing a game in overtime or a shootout.
At PointsBet, you will receive up to $50 back in free bets when you place a pregame money line wager in the NHL and the team you bet on loses in overtime or a shootout.
All NHL games are eligible and all jurisdictions for PointsBet can participate in this Overtime Insurance promotion.
NHL Risk-Free Money Line (COLORADO ONLY)
Bet up to $50 risk-free on the Colorado Avalanche against the St. Louis Blues on Wednesday January 13 and receive up to $50 back in free bets if the Avs lose on Opening Night.
Blackhawks On The House Booster (ILLINOIS ONLY)
Double your money on the Chicago Blackhawks on Friday night against the Tampa Bay Lightning. The Blackhawks puck line at +15 will be boosted up to +100. As long as the Blackhawks win or lose by fewer than 15 goals, you will double your money.
The maximum bet is $20, so you'll get a free $20 because no team in the modern era has lost by more than 10 goals in a game. You have +15. It's a free $20 courtesy of PointsBet Illinois.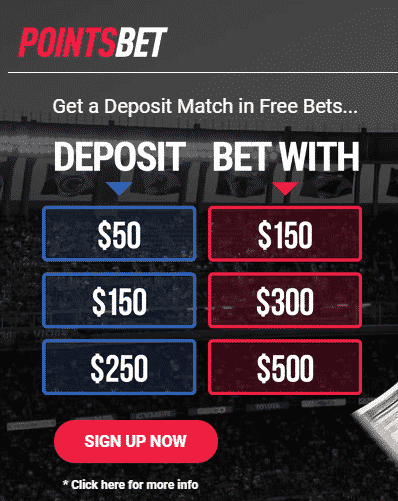 Parlay of the Day
Bettors love parlays. PointsBet loves its customers. As a result, the Parlay of the Day promotion has been created in which you can Create Your Own Parlay Booster. Build a personalized 3+ leg parlay and the payout price will be boosted.
In-Play Parlays
You asked and PointsBet answered. You can now put together live betting parlays over the course of a game on the PointsBet App and on the website. For now, this promotion is only valid in New Jersey, but that would seem to be the test market for other states.