Few things in sports can compare to the weekend of a major. The PGA Championship at TPC Harding Park will be heading into the last 36 holes and you have the opportunity to get some free bets from PlaySugarHouse.
This sportsbook promotion is simple, straightforward, and eligible to everybody in the state of New Jersey. Bet $50 on a single wager for the PGA Championship and get a $5 free live bet. You can take advantage of this promotion once per day and your free bets will be awarded immediately, so you can turn around and place them on a Live PGA Championship bet on August 8-9. If you get in on the promo quick enough, you'll even hit the late tee times on August 7.
The free bets expire at the end of the tournament, so these are something that you have to use on golf and something that you have to use by the time the final groups finish up on Sunday evening.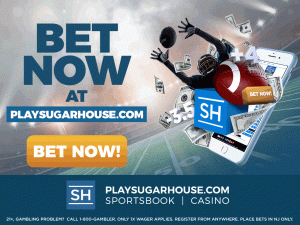 There will be a lot of compelling storylines as we go into the weekend. Will Brooks Koepka take down his third PGA Championship in a row? Will Tiger Woods give a Sunday charge in his traditional red polo? Will somebody come from off the pace and post a number to challenge the leaders?
Weather conditions could be a factor over the weekend as well and you might be able to find some good values betting on guys that tee off early or tee off late depending on what the wind will be doing. After all, this tournament has looked a lot more like The Open Championship in Europe than the PGA Championship in the United States.
Remember that the rough, which was already tough on Thursday and early Friday, will continue to get longer and thicker as the weekend rolls on.
These are important angles to consider because you do have to bet at least $50 to qualify for those $5 free live bet wagers. And then you'll have to use those wagers on the day you get them so they don't expire. That means locking in something early in the morning or afternoon so that you can make a bet as action continues. Your $5 bet is only on in-game wagering and has to be at odds of -200 or lower (-150, +110, etc.), but that means that you can take some long shots on guys to win with live betting.
If you don't have an account with PlaySugarHouse, now is as good a time as any. You can sign up through us and get a 100% match bonus up to $250 and use it on the PGA Championship, NHL Playoffs, NBA Restart, MLB, UFC on ESPN+ 32, or whatever else catches your attention.
It is a great weekend for sports, so get signed up at PlaySugarHouse now.