The Chicago Bears are favored over the New York Giants in Week 2. What if we told you that you could get the Bears as an 89-point underdog at PointsBet Sportsbook?
It sounds crazy, right? The idea of taking a -6 favorite and turning them into a +89 underdog. That is some kind of teaser!
There is no tease here. There are no strings attached. It is this simple. PointsBet Sportsbook Illinois wants to give you $25 in free money. No team in the NFL has ever or will ever lose by 90 points, so +89 is a guaranteed winner. If this lost, it would be the bad beat story to end all bad beat stories.
Would you take the time to pick up $25 just lying there on the ground? Yes. Would you love to find $25 in the pocket of your jeans before you throw them in the wash? Yes. Would you like it if your kids came to you and said "You spend so much money on me. I wanted you to have this." Of course you would.
Granted, you'd probably put that $25 back into something on them or tell them to keep it, but you get the idea. In this instance, the free dollars go into your PointsBet Sportsbook account. All the Bears have to do is not lose in historic, nearly impossible fashion. That seems easy enough, doesn't it?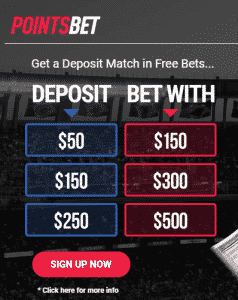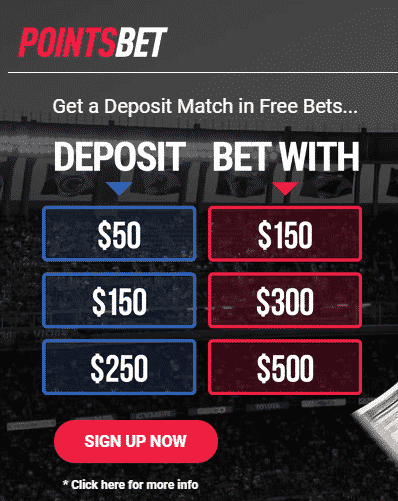 The hardest part of this promotion is that you have to sign up for a PointsBet Illinois account, but Governor Pritzker has made that a lot easier these days. By relaxing the in-person registration requirement, you can sign up for a PointsBet Illinois account from anywhere. The PointsBet Sportsbook at Hawthorne Race Course is eager for your in-person business and your Sunday viewing, but everybody seems to understand the current state of affairs in the U.S. and they'll gladly welcome you to the world of online and mobile betting.
Along with the free $25 Chicago Bears Promo this week, there are two great signup offers from PointsBet Sportsbook:
#1 – Deposit Match Bonus – Sign up and deposit $50 and you'll get $100 in free bets. Sign up and deposit $150 and you'll get $150 in free bets. Sign up and deposit $250 and you'll get $500 in free bets. Whatever amount you deposit will be matched in free bets up to $250. Click Here To Take Advantage
#2-  Up to $1,500 in risk-free bets – That means you make the bet and if it loses, you get a refund. If it wins, well, congratulations on being a winner. Enjoy your extra money. Click Here To Take Advantage Of The Risk Bets Offer
The way this works is that you get your first fixed odds bet up to $500 refunded if it loses. You get your first PointsBetting wager up to $1,000 refunded if it loses. It is basically a gamble with house money. You cannot lose. If you lose, you get it back. The only difference is that you get the money back in free bets and there are some restrictions in terms of what you can use free bets on.
We've found that our readers really like the Deposit Match Bonus and encourage you to go in that direction, unless you are going to deposit more than $250. Then you'll want to look at the risk-free bets option.
No matter what you use, you'll be able to get your free $25 from Bears +89 and also open yourself up to the endless possibilities from other PointsBet Sportsbook promotions, including the weekly Make It Rain free bets promotions.