PointsBet Sportsbook in Illinois has officially gone live and just in the nick of time for the main start of the NFL season. PointsBet missed the cutoff by two days to get the Texans vs. Chiefs action, but with any luck, they will take action on the other 255 NFL games scheduled for the 2020 regular season.
PointsBet Sportsbook is live through a partnership with the Hawthorne Race Course and has a brick-and-mortar sportsbook to go along with the online website and the mobile app.
Fortunately for you, the in-person registration requirement has been temporarily suspended by Governor J.B. Pritzker, which is great news for you as you get ready for the first NFL Sunday of the season. What that means is that you do not have to sign up in person to register your account. Remote registration is available, so you can sign up from anywhere in the state of Illinois.
Even if you don't live in Illinois, all you would have to do is get within the borders of the state in order to activate and register your account and then start betting. If you do live outside the state, you will need to be physically located inside the state borders to bet, so if you can do that, PointsBet's geolocation technology will find you and grant you access to your account.
Anyway, in order to celebrate the launch of PointsBet in Illinois, they have an outstanding crowd booster promotion on the hometown Chicago Bears. We've seen a similar offer in Indiana with the Colts that has gotten all the way up into the 40s. For the Bears, who are an underdog against the Detroit Lions, you can get a much better number than what is being offered elsewhere by using this promotion to your advantage.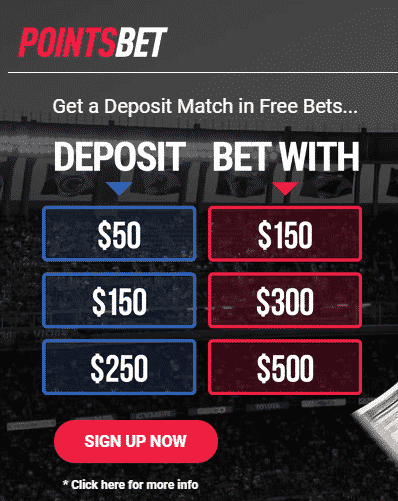 The Crowd Booster promotion means that for every 200 bets on the Bears, the line goes up. Right now, the line is up into double digits for the game against the Detroit Lions. It could close at +30 or +35 or +40. It all depends on how many bets come in on the game.
No matter when you bet on it, you will get the closing line. So if you bet when the line is +15 and it closes +30, you get +30. If you bet when the line is +20 and the line closes +35, you get +35. It's that simple.
At time of writing, the line was already up to +25. The maximum bet is $25 and the juice is at even money, so you will win $25 unless something absolutely crazy happens and the Bears get blown out in epic fashion.
So, you'll get to start with a free $25 when you get $25 on this Crowd Booster promotion, which is right on the front page of the PointsBet Illinois website and app.
Furthermore, there is an outstanding PointsBet Match Bonus promotion going on through us at ATS.io. If you use the promo code ATS100 or click on our link, you will get a Deposit Match Bonus in free bets. If you deposit $50, you will get $100 in free bets. If you deposit $150, you will $150 in free bets to bring you up to $300. If you deposit $250, you will get $250 in free bets to bring you up to $500. Then, once you use $25 of the cash dollars, NOT the free money bets, you'll get that extra $25 from the Crowd Booster promotion.
Really big things are happening with sports betting in Illinois and especially with PointsBet Sportsbook, so sign up now and get your Crowd Booster bet and your sign-up bonus all this weekend at PointsBet.