Nestled between New York and Massachusetts, Connecticut is an underrated state for sports betting fandom. With fans divided between their loyalty to New York and Boston teams, this state has plenty of passion for all four major sports in America. And sports bettors in Connecticut can take advantage of several compelling sportsbook offers at the newly launched sportsbooks in this state to add some money to their bankrolls as they get accustomed to legal and regulated wagering.
Every day the staff at ATS.io checks every Connecticut sportsbook for the latest bonuses and offers for new users, as well as exclusive offers to our visitors.
What is the best sportsbook bonus in Connecticut?
Our favorite sportsbook bonus this month at ATS.io is the second chance bet at Sugarhouse! New users can place their first wager up to $500, if it loses get a second chance with up to the initial wager amount!
For more details on these CT Sportsbook Promotions read on below.
---
Connecticut Sportsbook Reviews, Bonuses & Promotional Information
Sugarhouse Connecticut
Risk-Free Bet – Get a 2nd chance for up to $500 if your first bet loses
Parlay Madness – Up to 16 leg parlays are available
Profit Boosts – Just log in daily and get profit boosts on parlays daily
About Sugarhouse
There are a lot of selling points when it comes to the Sugarhouse Sportsbook app. The clean look is at the top. There are a lot of novice bettors in Connecticut and in other states that have created opportunities for sports fans and bettors that were not there previously. That means that there is a lot of new interest. It also means that a lot of new users face the real possibility of getting overwhelmed.
Sugarhouse CT Website & App
Sugarhouse has a really clean-cut layout. There are a ton of sports betting markets, so many different wager types, and so many different numbers that it can be really confusing. Sugarhouse, by having so much technological support through its various partnerships, really put an emphasis on the accessibility of its app. The contrasting blue and white color scheme and the incorporation of imagery and buttons to help users differentiate between everything going on is a really big win for this app compared to its competitors.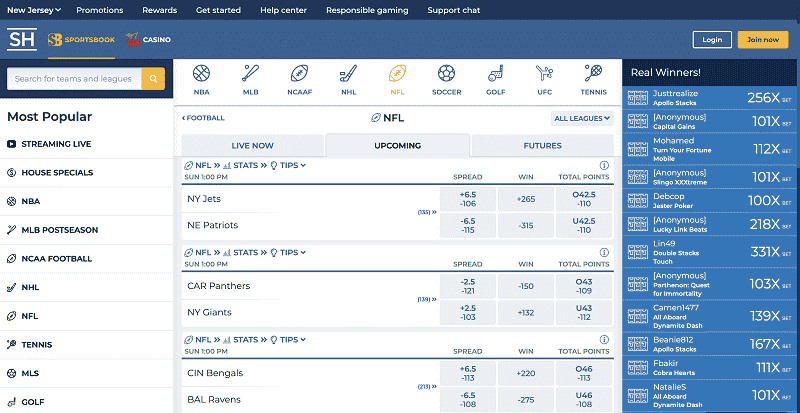 It is really important to have a positive user experience. You get that from Sugarhouse right away. You can see why they prioritized what they did and why they set things up in this way. It is an excellent way to display a lot of information.
This is also one of the best apps for live betting. In fact, Sugarhouse even streams some games right on their software so that you can follow along with the games. There is nothing better for live betting than being able to watch the game and make your decisions in real-time. This is a great selling point for Sugarhouse, especially because live betting is the wave of the future in this business.
Sign Up and Deposit at Sugarhouse
Connecticut is a state that allows online registration. This is important. It means that you do not need to be a resident of Connecticut to sign up for the app. However, in order to deposit and place bets, you need to be physically located in the state of Connecticut. Geolocation technology will ensure that you are in the proper jurisdiction to be able to access your real money account.
But, if you live in New York, Massachusetts, or any of the other adjacent states, you can still sign up and register for an account. You just won't be able to place any bets.
Basic personal information is required, including name, address, email address, phone number, social security number, birth date, and the like. Identity verification is important for the apps, especially to prevent underage gambling. Account holders must be 21 years of age or older.
For those that live in CT or find themselves within the state borders, deposits and wagers will be available to you. Sugarhouse takes all of the major deposit methods as other sports betting apps, including Visa or Mastercard, electronic bank payments, PayPal, PayNearMe, a Prepaid Play+ Card, or you can deposit right at the casino cage at French Lick Casino.
Withdrawal methods are typically going to be similar, but will also include a payment by check. You can also get your winnings from the cage.
Promotions, Bonuses, & Offers at Sugarhouse
Like all sportsbooks in the business, Sugarhouse offers a very generous first deposit bonus. Once you sign up and fund your account, you will get the best current bonus offer from Sugarhouse, so long as you enter the right promo code or sign up through an affiliate site.
One of the downsides for Sugarhouse is that they don't offer as many promotions as other sportsbooks once you have an account. Other sportsbooks offer Profit Boosts or free bets for specific events. For the most part, Sugarhouse just relies on offering fair pricing with their betting odds in order to sweeten the pot for users.
By having an account with Sugarhouse, you will gain entry into the iRush Rewards program. That is a perk, as you can get cash back, Sugarhouse swag, and other redemptions.
Right now, Sugarhouse Sportsbook is offering bettors a second chance bet worth up to $500. Here, bettors can make their first deposit with this CT sportsbook and double make their first bet risk-free up to $500, if it loses you get a second chance to get your money back. Bettors can also get 20% profit boosts on the NFL and college football on Tuesdays, the NBA on Wednesdays, and NHL on Fridays.
FanDuel Connecticut Sportsbook
Let's make kind of a weird comparison, but roll with it. Remember factions in pro wrestling? The nWo? D Generation X? Things like that. Well, if FanDuel was a faction, it would run things. IGT is one of the gaming industry's foremost tech companies. The PPB stands for Paddy Power Betfair, which is a powerhouse in European sports betting.
Then there's FanDuel. A company that thrived in the DFS space and has continued to thrive in the sports betting space. Basically, in a long-winded way, what we're saying is that this is quite possibly the preeminent sports betting app in the industry. From a gorgeous, streamlined, exceptional standard interface to a dynamic and flawless live betting interface, some would say that this app is unrivaled in the gambling world.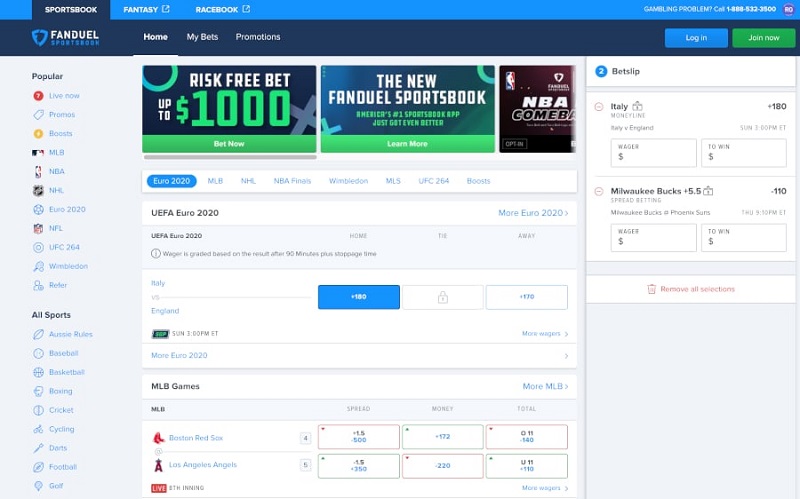 FanDuel CT App
Something great about the FanDuel app is that its appearance is very similar to that of the website, so those that transition between the two won't have to spend time getting acclimated to one or the other. There are a lot of betting markets on FanDuel, and it can be overwhelming to find what you want, but the fact that the app and the website mirror each other in a lot of ways will make it much easier on you.
It sure feels like a lot of consideration was put into the fact that there would be a lot of new bettors in the United States. Some of the apps that have been around in Las Vegas for the last few years didn't change anything. They just assimilated their products into new states. The sports betting operators that were just starting out with New Jersey or other states in the US legal US betting market have had much more streamlined, much simpler formats.
It really works well. What also works well is that Connecticut has remote registration. That means that you can sign up for the Connecticut sports betting apps from anywhere. You cannot place your bets unless you are within the borders of Connecticut, but you can sign up from anywhere to see the look and scan the odds.
Download, Sign-Up, Deposit, and Withdrawal
The first step in getting with FanDuel is to download the app. Or you can visit the website, whichever you prefer. If you are an Android user, you either have to visit the website to download the app or make sure that your existing DFS app is updated with the Sportsbook component. If you are an iOS (Apple) user, you can download the app from the Apple Store.
Once you have downloaded the app or gone to the website, personal information will be required to sign up. Name, address, email address, phone number, social security number, etc. Remember, the legal betting age in Indiana is 21, so you'll have to be at least 21 years old to use the app.
Depositing is easy. Because these DFS operators like FanDuel have been taking deposits for a long time, the list of deposit methods is pretty extensive. Other things have been added to make getting your money in a whole lot easier. Visa, Mastercard, electronic bank transfers, online payment processors like PayPal and PayNearMe, are all options, but you can also deposit at the retail sportsbooks or casino cages if you are so inclined.
With the exception of credit cards, just about all of the same deposit methods can be used for withdrawals as well. Processing times vary based on the method of choice, but FanDuel is committed to fast payouts.
Promotions, Perks, & Bonuses When Playing at FanDuel CT
Along with a very friendly first deposit bonus, FanDuel, like so many other online and mobile sportsbooks, offers a bevy of bonuses and a plethora of promotions. FanDuel offers parlay insurance. They also offer a bunch of Odds Boosts on various events. You can also look for different contests, pools, and tournaments to enter.
Most of these additional promos and bonuses do not require any additional deposits. Most will have minimum or maximum bet amounts attached to them, but those are very reasonable limits.
Promotions will come in all shapes and sizes, too, much like the wager types at FanDuel. Most of the Odds Boosts will be on straight wagers, like sides, totals, and money lines. The parlay insurance applies to bets with multiple wagers on the same ticket. There are likely to be Odds Boost offers on props and maybe even sometimes on futures as well. It is something new every day at FanDuel.
---
Types of Connecticut Sportsbook Promos
While Connecticut sports bettors do not have a massive number of sportsbooks to wager with, there are still plenty of sportsbook bonuses that they may encounter along the way in their sports gambling journey. These types of CT sportsbook promos are the most popular among sportsbooks and could come in handy for you.
Risk Free Bet
Risk-free bet offers are very common among legal online US sportsbooks, as bettors can take advantage of them to give themselves peace of mind when placing their first bet. With these promos, bettors can put down their first wager on the sporting event of their choosing. If that bet wins, the bettor keeps their winnings. If it loses, bettors are given their stake back to be wagered on something else.
Deposit Bonuses
With deposit bonuses, bettors immediately receive extra money in their sportsbook accounts. Bettors receive an extra percentage on top of the amount they deposited, which they can use to place bets without having to risk their own funds right away. These are becoming more rare in the world of sports betting, but are still useful at some books.
Odds Boost Bonuses
Instead of a bonus that is correlated with the amount of money deposited by a bettor, some online US sportsbooks offer odds boosts for new players instead. With these types of CT sportsbook promos, bettors are able to wager a small amount of money to win a larger amount than what is normally available on those bets. This kind of added value is certainly worth taking advantage of when available.
---
How To Claim Your Connecticut Sportsbook Promo Offer
Are you ready to sign up and claim your Connecticut sportsbook welcome offer? Just follow the five steps provided below.
Choose Your Connecticut Sportsbook

The first step is to select the Connecticut sportsbook where you want to claim the welcome offer. There are several licensed sportsbooks available in the state. You can compare their features, promotions, user reviews, and available sports markets to make an informed decision.

Register for an Account

Once you have chosen the sportsbook, you will need to register for an account. Visit the sportsbook's website using the links we have provided throughout the page, and look for the registration or sign-up button to get started. Provide the required information, which typically includes your name, email address, date of birth, and sometimes the last four digits of your Social Security Number. Choose a password and agree to the site's Terms & Conditions.

Verify Your Information

After registering, you will need to verify your information. This step is usually done to comply with the state's regulations and ensure that you meet the legal requirements for sports betting. The sportsbook may request additional documents, such as a copy of your identification (e.g., driver's license or passport).

Make Your First Deposit

To claim the welcome offer, you will need to make your first deposit into your sportsbook account. The sportsbook will provide you with various deposit options, such as credit/debit cards, bank transfers, or e-wallets. Choose your preferred method and follow the instructions provided by the sportsbook to complete the deposit.

Claim Your Welcome Offer

Once you have completed the previous steps, you will receive your new user welcome bonus. The welcome offer commonly provides bonus funds, free bets, first-bet insurance, or enhanced odds. Review the terms and conditions associated with the welcome offer to understand any wagering requirements or restrictions. Enjoy!
---
Popular Connecticut Teams To Bet On
Without professional sports teams in Connecticut, bettors in this state are often relegated to choosing pro teams from other states. But there are still some local teams worth keeping an eye on in addition to the out of state teams that fans have pledged their loyalties to.
Football
While there are no professional football teams in Connecticut, the UConn Huskies play at the FBS level in college football in this state. UConn has struggled quite a bit in recent years, but they are still working to figure things out. In the meantime, Connecticut football fans regularly flock to teams like the New York Giants and New England Patriots.
Basketball
College basketball is more of an attraction than professional basketball in Connecticut, thanks to the UConn Huskies. UConn's men's and women's basketball teams are often among the best in the nation, with the women's team regularly winning national championships. In the NBA, the Nets, Celtics, and Knicks are among the preferred pro teams, but college hoops is the preferred avenue of basketball viewing here.
Baseball
UConn does have a baseball program, but college baseball is not all that popular in the Northeast United States. Instead, baseball fans in Connecticut often back the Boston Red Sox, New York Yankees, or New York Mets.
Hockey
The NHL used to be in Connecticut, as the Hartford Whalers were once a part of the league. They have since left town, leaving Connecticut hockey fans to side with teams like the Boston Bruins and New York Rangers.
CT Sports Betting FAQs
Can you bet legally on sports in Connecticut?
Anyone 21 or older and is within the state borders can legally bet on sports online or via mobile device.
What sports betting sites are legal in Connecticut?
Currently, there are 3 licensed sportsbooks in CT: FanDuel, Sugarhouse, & DraftKings Sportsbook.
Do I have to be a Connecticut resident to bet on sports in the state?
No, you do not have to be a resident of Connecticut to bet on sports within the state's boundaries. However, you must be physically located within Connecticut's borders when placing bets. This requirement is enforced through geolocation technology used by licensed sportsbook operators.
Can I bet on sports in Connecticut using my mobile device?
Yes, mobile sports betting is legal and available in Connecticut. Licensed sportsbook operators offer mobile apps or mobile-optimized websites that allow users to place bets using their smartphones or tablets.