As the saying goes, Chicks dig the long ball, and MLB bettors will also this season at BetMGM Sportsbook. The BetMGM Call Your Shot Wednesdays promotion gives bettors a chance to back any MLB player to hit a home run with a $25 bet and score a $10 Bonus Bet regardless of the outcome. You can use your bonus bet on any MLB betting market afterward!
How The Call Your Shot Wednesday BetMGM Promo Works
The 2023 MLB season covers 25 Wednesdays throughout the season, which means bettors have an opportunity to lock up $250 in bonus bets if they take advantage of this offer each week. Here is how it works:
Each week head over to the BetMGM promotions tab on the top menu, here select the Call Your Shot Wednesday promotion to opt in.
Next select MLB from the betting menu and choose the game that has the player you wish to back to hit a home run today. Here is a example from a recent Mets vs Tigers game: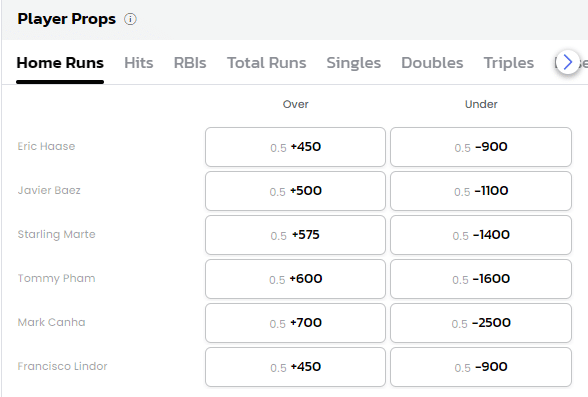 Here you select a player to go "Over 0.5" home runs meaning the player will hit one; betting on a player not to hit a home run is not an option for this promo.
Finally, place a $25 wager on one of the players then sit back a root for the long ball.
Examples of a bet on the BetMGM Home Run promo
Using the odds above, a bettor places a $25 Wager on Francisco Lindor +450 to hit a home run.

Lindor Hits a home run – The bettor receives $10 Bonus Bet from BetMGM, $25 Wager back and $112.50 in winnings!
Lindor doe not hit a home run – The bettors loses their $25 bet however they receive $10 in bonus bets back!
BetMGM Call Your Shot Wednesdays Terms & Conditions
Must be 21+ in an eligible state
Bet must be on a player to hit a HR
One eligible wager per Wednesday
Minimum Wager $25
Minimum to hit a Home Run odds +100
Promotion runs from April 4, 2023 to October 1, 2023
Understanding Home Run Prop Bets
A home run prop bet is a type of bet that allows you to wager on whether or not a specific player will hit a home run during a game or series. These bets are made before the game starts, and the odds will depend on the player's past performance, the opposing team's pitching staff, and other factors.
About BetMGM
In recent years, the online sports betting and gaming industry has experienced significant growth across the US. With this legalization, more and more people are turning to online gambling as a source of entertainment. BetMGM Sportsbook is a leading provider offering a wide range of games and betting options to customers. One of the key factors that sets BetMGM apart from its competitors is the wide range daily sports betting promotions and betting markets that it offers.