Ever wanted to go up against a Major League pitcher?
At BetAmerica Sportsbook, you can do exactly that. No, you don't have to stand in the batter's box and take your best hacks. You can face former Major Leaguer Glendon Rusch in the Beat The Rusch Freeplay contests to win a $100 daily prize and a $500 weekly prize.
All you have to do is sign up over at BetAmerica and check out all of the different Freeplay options that they have. One of them is the MLB Pick 5 Beat The Rusch contest. Let's be honest, it should be a lot easier to beat him in a betting contest than it would be to try and square up a 90 mile per hour fastball.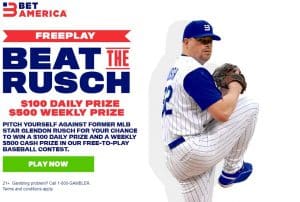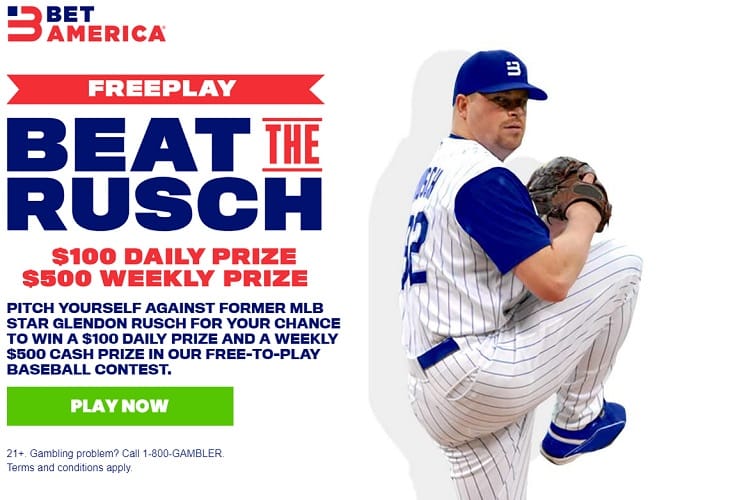 That is just one of several free contests offered by BetAmerica. Another contest for $100 cash is the Daily NBA Pick 6. That contest features a $100 daily prize in cash for making picks in the NBA Playoffs.
There are additional contests for big events in other sports, like golf tournaments, NASCAR races, and UFC fight cards. You can win bonus cash up to $1,000 with these events and contests. That's not too shabby for an entry fee of exactly $0. There is always something going on at BetAmerica with the Freeplay contests and the prizes are certainly worth your while.
The Freeplay promotions are the spotlight offer right now, but there are always additional promotions, offers, and challenges. BetAmerica offers multi-sport parlay insurance and BetAmerica Super Odds with boosted odds on the day's marquee sporting events.
Most people know of BetAmerica as a place to wager on horses, but it is so much more than that these days with a full-fledged sportsbook and online casino in locations where such things are legal.
If you live in Indiana, New Jersey, or Pennsylvania, or one of the surrounding states, you can get a BetAmerica account. You will have to be within the borders of the approved jurisdiction before you can access your real money bankroll, but those in border towns of those three states would be able to sign up and then travel across the border to get those bets in.
In terms of sportsbook offers and promotions, few places can be talked about in the same breath as BetAmerica Sportsbook. With fair odds and fast payouts, this is a top-rated sportsbook and the Freeplay contests and challenges just make the decision that much easier to sign up now!