Since 2010, only 40 teams have scored 50 points in a game. In that span, only three teams have won by more than 50 points.
The Rams beat the Raiders 52-0 in Week 13 of the 2014 season. The Saints beat the Colts 62-7 in Week 7 of the 2011 season. The biggest win was the Seahawks over the Cardinals 58-0 in Week 14 of the 2012 season.
Now consider the fact that PointsBet Sportsbook is willing to give all users in Colorado the Denver Broncos at +50 against the Kansas City Chiefs on Sunday Night Football in Week 13.
The odds are very, very much in your favor, given that in more than 10 seasons worth of football, a team has only lost by more than 50 points three times. It would seem like this is a good investment, right? Broncos +50 against the Chiefs?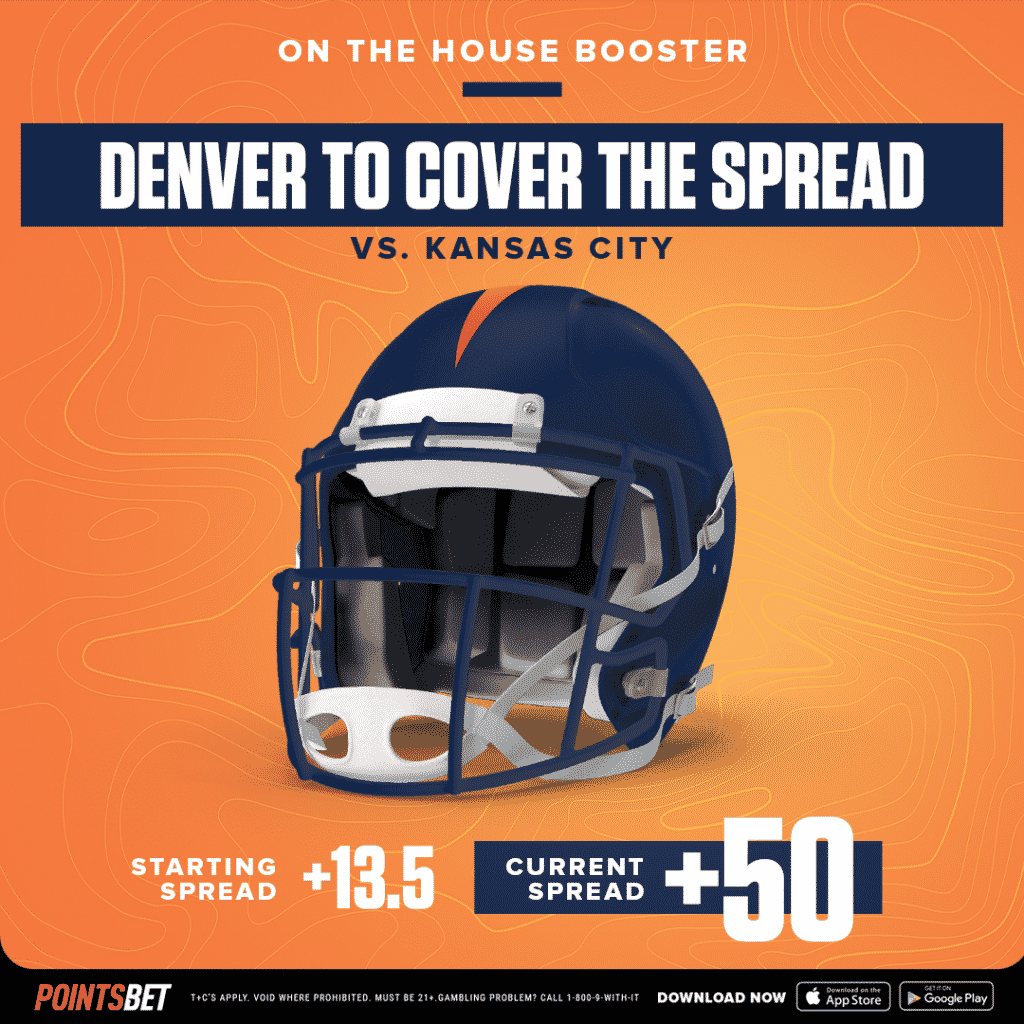 Of course it is. That is why now is the time to sign up at PointsBet Sportsbook. This No-Brainer Broncos On The House Booster is going to be a winning ticket barring a complete and utter disaster. We shouldn't see a complete and utter disaster this weekend.
Oh, and this is also an even money wager. It is Broncos +50 at +100, which means that you are going to double your money when Denver covers the boosted spread. Sure, the maximum bet is just $20, but it is a free $20. If you saw a $20 bill lying on the ground, would you bend over to pick it up?
This is even easier than doing that. There is no chance of tweaking your back and complaining about it for a week.
The only thing that you have to make sure of is that you are a PointsBet Sportsbook user in the state of Colorado. You can even live outside of Colorado and sign up because Colorado is a Remote Registration state. The only catch with that is that you have to physically be located within the state borders to make a deposit or place a bet.
If you don't have a PointsBet account, now is the time to sign up for one. There are two Welcome Bonus options for you if you sign up through ATS.
The first is a 100% Deposit Match Bonus up to $250.
The second is up to $1,000 in Risk-Free Bets, with up to $500 on your first Fixed Odds wager and up to $500 on your first PointsBetting wager.
That's all it takes. You'll also be able to get some other Colorado-specific promotions, like the best spread and money line odds on all Broncos, Colorado Buffaloes, Colorado State Rams, and Air Force Falcons games.
PointsBet USA is headquartered in Downtown Denver, so there are always special offers in Colorado from PointsBet.
Take our word for it. Now is the time to sign up at PointsBet Sportsbook.