A cool half million dollars could be yours in the 2020 DraftKings Sports Betting Spring Championship. The four-day tournament runs from March 19-22 in Weehawken, New Jersey and you can win a lot of money by picking winners in college basketball and the NBA.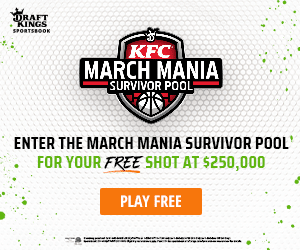 Astute readers and observers will notice that March 19-22 falls during the first two rounds of the NCAA Tournament. In a way, we could call this the March Madness of Sports Betting.
Bets can ONLY be placed while in the state of New Jersey. If you choose, you could enjoy the festivities at the VIP Sportsbook Venue in Weehawken. If you are an out-of-state resident, as long as you head to New Jersey and get set up with the app, you are able to participate. You just have to remain in New Jersey for the duration of the time in which you are making picks so that your bets can be applied while in a legal jurisdiction.
There are two ways to gain entry into the Spring Championship. The first is with a direct buy-in of $5,000. The other is by entering some DFS qualifiers to win your way in, plus a four-night hotel stay and $1,000 for travel expenses. For those that directly buy in, $2,000 of your buy-in goes into your sports betting bankroll and the other $3,000 goes into the prize pool, which features a pool of $1.5 million guaranteed. Additional monies based on the number of entrants would be added to the potential winnings.
Once you get bought in or win your way in, the process is pretty simple. You've got $2,000 with which to bet on college basketball and the NBA. Your college basketball choices will be the games in the Rounds of 64 and 32. Your NBA choices will be whatever is on the board for those nights. It is possible that you could run into some CIT and CBI games as well, depending on how those are scheduled.
The highest bankroll at the end of the event will win the grand prize. The other finishers, based on number of entries, will either pick up some winnings or will go home empty-handed, but with a lot of memories. In order to be eligible to win a prize, contestants must bet at least $1,000 per day over the four days of the event. Players will also take home their final bankroll amounts, assuming they don't go broke.
That means that you could win the first-place prize of $500,000 and also have a nice little bonus with your winnings from the $2,000 bankroll that you started with.
Betting types are not limited to straight bets on sides or totals. Players are eligible to do money line wagers and also construct parlays in hopes of hitting something big. Parlays do have certain stipulations, however, so bettors will have to check with tournament officials or take a thorough look through the rules before submitting those.
As things currently stand, based on the DraftKings estimate of 536 entries, the top four are all going to make six figures and the top 25 are all going to make five figures, so put your money where your mouth is and sign up for the DraftKings Sports Betting Spring Championship!