Did you take advantage of the DraftKings Sportsbook Profit Boost for the Real Heroes 400 at Darlington Raceway last weekend? Hopefully you did because it may have given you a little bit extra in your bankroll for Wednesday's encore presentation at Darlington. The Toyota 500 sure is a quick turnaround for the drivers and the teams, but it doesn't seem to be fast enough for bettors, who supplied one of the biggest betting handles ever for a NASCAR race this past weekend.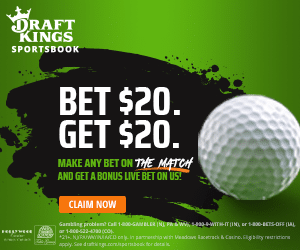 Kevin Harvick was the winner of the race, leading 159 of the 293 laps, and he is the favorite for Wednesday night's race, assuming Mother Nature allows it to happen. With rain in the forecast, NASCAR has already announced plans to move the race to Thursday night if it gets washed out.
Harvick is the +400 favorite and is +115 at DraftKings Indiana to finish in the top three. He is -455 to finish in the top 10, which seems fair given that his win on Sunday was the 50th of his career. He'll have to hold off a long list of eager challengers that includes Kyle Busch at +650, Denny Hamlin and Martin Truex Jr. at +800, Alex Bowman and Brad Keselowski at +850, and then Chase Elliott at +900 among the single-digit prices.
We'll see how things continue to progress with NASCAR, but it does appear that everything is on schedule for July 4 Weekend at iconic Indianapolis Motor Speedway for the Big Machine Vodka 400 at the Brickyard Powered by Florida Georgia Line. Everything went well for the first weekend, as distancing practices worked and the drivers adapted to the altered schedule that did not allow for any practicing or qualifying. There will not be any practice or qualifying this week either.
That should make for a rather interesting race once again. Most teams are going to change cars, so what you saw in the first race may not be what you get in the second race. Harvick is not changing cars, but several other teams will make the switch, including Ryan Blaney and Team Penske. Blaney is priced at +2500 and the Ohio native might be an excellent bet with a different car. He showed great speed last season and in the first four races this season prior to the shutdown. Maybe his team simply selected the wrong car last week.
One Michigan native would seem to be in a good spot this week while another Michigander may not be. The one in a good spot is Brad Keselowski, who traditionally has one of the better cars in the race. He had some good speed early in the race and even won Stage 2 before finishing 13th. That makes back-to-back races with a stage win for Keselowski. He won on the Darlington track in 2018 and finished fifth last year. He was also runner-up in 2015 with the most laps led. At +850, he is a good bet.
The one in a not-so-good spot is Erik Jones. Jones, who keeps showing flashes of brilliance canceled out by misfortune, will be without crew chief Chris Gayle, who was suspended for this race because of two loose lug nuts during the post-race inspection. Jones is +2000 per DraftKings for this one, but it will be tough without his top crew member. There is more than enough uncertainty right now, but the loss of Gayle could exacerbate any problem that arises. And we know problems will arise in just the second race back.
Snakebitten fan favorite Jimmie Johnson has now gone 100 races without a win. He was in position to win Stage 1 and seemed to have a pretty good car, but he rubbed with Chris Buescher and could not continue after the subsequent wreck. He'll turn to a new car and attempt to clear his mind after another disappointment. He's +2000 if you like the idea of a bounce back.
South Bend, Indiana native Ryan Newman will get a nice post position this week. The #6 for Roush Fenway Racing will begin sixth in the starting grid. NASCAR inverted the top 20 from last week to set this week's pole positions, so Ryan Preece and Ty Dillon start in the first row. Newman, who made his return at Darlington following that horrifying crash in the Daytona 500, is well down the board at +6600, but he had a pretty good car in Sunday's race for long stretches.
A lot of people will be rooting for Matt Kenseth. A repeat performance of last week's 10th-place finish would cash at +105 in the top-10 prop. Kenseth, who took over the #42 car for Kyle Larson, ran a Chevy for the first time in his career for Chip Ganassi Racing and looked like he hadn't missed a beat. He'll start 11th this week and +105 seems like a nice payout for another good run from the wily veteran.
We'll take a piece of Keselowski for the win at +850 and also take a look at Team Penske to win at +400. Blaney will have a new car. Keselowski is on the list of drivers we like. Joey Logano is also part of Team Penske and he already had two wins prior to the quarantine.
We'll also look to fade Erik Jones in matchups and group play. Jones is in Group C with Kurt Busch, who finished third on Sunday, Jimmie Johnson, and William Byron. Johnson is the preferred option here at +265 with a good car and Chevrolet's success last week, but Busch is also a viable choice at +200. DraftKings has a lot of great prop betting options for NASCAR and is a preferred spot for betting on the races.
Coverage of the Toyota 500 at Darlington is scheduled for Wednesday night at 7:30 p.m. ET on FS1, but a postponement would move the race to Thursday night, so stay up-to-date on the latest with the weather so you don't miss the opportunity to watch.