There are a lot of iconic summer cookout pairings. Hot dogs and baked beans. Hamburgers and a corn cob. Potato salad and eating too much. Beer and more beer. There are also a lot of pairings in the auto racing world with the summer holidays. While we are fighting to find some semblance of normalcy through the seemingly unending COVID-19 pandemic, we get something familiar to whet our appetites this Memorial Day Weekend with the Coca-Cola 600.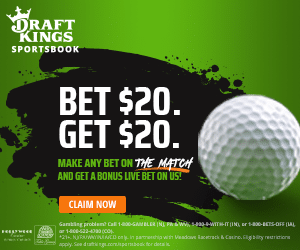 Unfortunately, something else familiar, the Indy 500 on Memorial Day Weekend, has been postponed until August 23, but at least race fans get something on the holiday weekend. It may not be what they want, especially for those that love and respect the tradition in Indiana, but this weekend's NASCAR race does provide us with some great betting opportunities.
The NASCAR week at Darlington was a smashing success. The sport got some much-needed drama, more than a few storylines and talking points, and nobody got sick. Things couldn't have gone much better. We'll see how things go at Charlotte Motor Speedway now for what is one of the longest races of the year. This race is generally every bit of four hours and last year's 4:50 marathon was one of the longest in the event's history.
Per the odds at DraftKings Sportsbook, we have co-favorites in Kyle Busch and Martin Truex Jr. at +600. Kevin Harvick and Chase Elliott are right behind them at +650 and +750, respectively. Alex Bowman, Denny Hamlin, and Brad Keselowski are all 10/1, with the long shots beginning after that.
It makes sense that Toyota is high up on the board, given that four of the last five winners of this race have driven that manufacturer. Twice that winner has been Truex, whose dominance on 1.5-mile tracks has been a driving force over the last few years of his career. He won at Las Vegas and Charlotte last year. He won at Kentucky the previous year. He won at Homestead, Kansas (twice), Chicagoland, Kentucky, and Charlotte pre-Roval during 2017. Truex is a threat on most tracks, but especially the 1.5-mile loops.
He has three career wins at Charlotte, with wins in this race in 2016 and 2019. The only active driver with more than two wins in the Coca-Cola 600 is Jimmie Johnson, who won three straight from 2003-05 and then again in 2014.
The only other multiple winner of the 600 is Kevin Harvick, whose most recent win came in 2013. Even though Truex is a short price, it is hard not to have him on your Bet Slip at +600 or with a top-three finish at +175.
Kyle Busch has finished in the top three each of the last three times in the 600, including his 2018 win for Joe Gibbs Racing. The JGR cars should be in great shape for this race, as they often are, but it is worth pointing out that Chevrolet seems to have really closed the gap of late. Guys like Alex Bowman and Chase Elliott have shown much greater speed than we've seen from Chevy for the better part of the last five years. Hendrick Motorsports is a weekly threat once again and we haven't been able to say that for a while.
Ford has not fared well here. In fact, you have to go all the way back to Mark Martin in 2002 as the last Ford driver to take down the 600. Whether or not that applies to this year's race could be up for some debate given how well Harvick has been running, but Ford drivers have been few and far between in the top 10 the last few years. Brad Keselowski won Stage 1 and Stage 2 last year, but finished 19th. Joey Logano was second and Ricky Stenhouse JR. was fifth. Fords finished 10th through 16th and then 18th and below otherwise.
In 2018, Keselowski was fourth. Kurt Busch was eighth. Stenhouse was 10th. He seems to be okay if he isn't putting his car into the wall. In 2017, Ford only had two finishers in the top 13 with Busch and Harvick finishing sixth and eighth.
Because of the vast array of prop bets at DraftKings for NASCAR races, you may find some great values here. Martin Truex Jr. is -121 to finish above Kevin Harvick and Kyle Busch is -118 to do the same. Those look like two excellent head-to-head matchup wagers. Maybe even fading Ryan Blaney with Jimmie Johnson at -108 isn't a bad grab. Johnson had the speed in the first Darlington race, but made a serious tactical error by running into the back of Chris Buescher.
Fading Ford may also be a good idea in Group Matchups. Erik Jones is +225 for Joe Gibbs Racing against Kurt Busch, Clint Bowyer, and Aric Almirola, who all drive Fords.
DraftKings is one of the best places to bet on NASCAR before they offer so many options outside of just picking the winner of the race. If you want to just attempt to pick the winner, the co-favorites of Truex and Busch are our picks, but there are a lot more exciting betting options for props.
The green flag will wave for the Coca-Cola 600 around 6 p.m. ET on Sunday May 24.