Moneyline betting is the easiest way to wager on NFL football games and this guide will fill you in on everything you need to know about it.  With the new NFL season upon us, it's the perfect time to get brushed up on the NFL moneyline betting basics.
What are NFL Moneyline Bets?
In the simplest terms, moneyline betting means you are just picking who you think will win the game. There are no points to consider, just the odds of who you think will win.
To apply this principle to NFL betting, Lets take a look at matchup between Dallas Cowboys and the Washington Commanders. . All you are doing is betting on which of the two teams will win. If you place a moneyline bet on the Dallas Cowboys to defeat the Washington Commanders, and they do, then you've won your moneyline bet. If the Commanders win, then you would lose your bet.

First Bet
Up To $1250 On Caesar!

Risk Free Bets
Get 5 – $100 Free Bets
Now, some of you may be asking what would happen if the game you placed a moneyline wager on resulted in a draw. Well, this would make the moneyline wager a push. . The sportsbook would simply return your stake. Nothing ventured and nothing gained. As a point of interest, approximately 7.2% of NFL games played since 2017 have ended in a tie.
Best Online Sportsbooks for NFL Moneyline Betting
Before we take a deeper dive into the topic at hand, we would like to introduce you to some of the best online sportsbooks for NFL moneyline betting. All of these sites are licensed and highly reputable which means you don't have to worry about getting paid when you win your wagers.
BetMGM Online Sportsbook
BetMGM Sportsbook has quickly become on of the most popular online sportsbooks in the United States. Not only is it a great site for wagering on NFL futures, but the site also offers competitive NFL moneyline odds. The odds margin for a typical NFL moneyline odds in at a little over 5% which means you win more money when your NFL moneyline bets pull through for you.
Caesars Sportsbook
If you want to make the most out of your NFL moneyline betting, then you might want to take a virtual trip to Caesars Sportsbook and take advantage of a free NFL moneyline bet worth up to $1,500. This is the perfect way to get your NFL season off to a flying start. After you've made use of your free bet, you can take advantage of NFL odds boosts to pad your bottom line even more.
DraftKings Online Sportsbook
DraftKings Sportsbook serves up all sorts of NFL betting options. One of the coolest things you'll find at DraftKings is a handy tool called the Cash Out feature. With this option, you can close your moneyline bets before the games you wager on come to an end. Let's say you wagered the ML on the Patriots to beat the Jaguars. Even though the Pats are clinging to a 2-point lead late in the game, the Jags are miraculously marching downfield and look primed to take the lead and win. You can cash your bet out right then and there to lock in the win.
Fubo Sportsbook
If you are familiar with the brand, then you likely associate it with live streaming. While Fubo is a live streaming service, they have also integrated sports betting into the mix by launching Fubo Sportsbook. Fubo has also integrated sports betting features into their live streaming services.. This is ideal for those who like to live bet moneylines when the game is in progress. Even better? Odds margins for NFL moneylines are often as low as 4%. That's great value!
Bet365
Few sportsbooks are as well-known and respected throughout the world as Bet365. Bet365 is based out of England and have been accepting online bets since 2000. This sportsbook incorporates all of the traits of the world's best bookmakers including excellent NFL moneyline odds, regular NFL promotions, and awesome features like Cash Out, Bet Boost, and live streaming. Football bettors can also create a wide range of custom same-game parlays which are ideal for anyone who has thoroughly handicapped a given NFL game. You can win big by mixing moneylines with totals or a variety of other propositions.
PointsBet
PointsBet has made a splash in the American sports betting market after conquering Australia and other regions in recent years. Once you are comfortable with NFL moneyline betting, you won't be able to resist checking out the site's PointsBetting option. You can only find this unique betting option at PointsBet. While PointsBetting is a little riskier than other types of NFL bets, it also offers massive rewards.
How to Read NFL Moneyline Betting Odds
In most NFL games, you have a favorite and an underdog. In other words, the oddsmakers think that one team stands a better chance of winning than the other. Sometimes a team is a slight favorite while other times they are a huge favorite. Not only do moneyline odds tell you who the sportsbook thinks is the favorite and how big of a favorite they are, but ML odds also tell you how much you stand to win. Let's take a look at a sample NFL match and the moneyline odds.
Tennessee Titans +165
Baltimore Ravens -195

So, what do these ML odds tell us? Let's start by pointing out that the odds for the Ravens have a "-" sign beside it while the Titans odds have a "+" sign next to it. The + and – signs indicate which team is favored. The favorite always has a "-" attached to the moneyline odds, while the "+" sign denotes the underdog.
These odds also give us insight into how much of a favorite the Ravens are. The bigger the discrepancy between the "-" and "+" numbers, the more the "-" team is favored. In this case, Baltimore would be favored by about 4-points.
The next thing we can do is figure out what each ML bet would pay out. When you see a minus number like the -195 that the Ravens are hanging, it means that you would need to stake $195 to win a $100 profit. On the flip side, betting on the Titans moneyline at +165 means that a $100 wager would net you a $165 profit. As you can see, betting on heavy favorites can be costly if you lose. On the other hand, betting on underdogs can be quite lucrative when you win.
Should I Price Shop for the Best Odds on NFL Moneyline Bets?
Getting the best odds for NFL moneyline bets is very important. Let's illustrate this point by pretending that we want to make a moneyline bet on the Kansas City Chiefs to beat the Los Angeles Chargers. You check the moneyline odds at one sportsbook and they are listed as:
Kansas City Chief -155
Los Angeles Chargers +135
From what we have already learned in this NFL moneyline betting tutorial, we know that we'd need to stake $155 to win $100. Of course, this is the equivalent of wagering $100 to profit $64.51.
Now we head over to another sportsbook and see that the moneyline odds on this same match are:
Kansas City Chief -145
Los Angeles Chargers +125
This means we would need to risk $145 to win $100 which is the same as wagering $100 to win $68.96. So the big question is: Are you better off risking $100 to win $64.51, or are you better off risking that same $100 to win $68.96? The answer should be abundantly clear. This illustrates why it is so important to shop for the best NFL moneyline odds. This also demonstrates the importance of having accounts with multiple sportsbooks. It gives you a better chance of finding the very best odds which increases your chances of turning a bigger profit over the course of the NFL season.
What to Look for When Betting NFL Moneylines Online
Let's now turn our attention to what budding NFL betting buffs should look for when wagering on moneylines.
Moneyline Betting Selection
Not only do American sportsbooks offer moneylines for every NFL game, but many of them offer two types of NFL moneylines. We have already discussed the basic money in which you pick the winning team. If your team wins, then you win. If they lose, then you lose. If the game ends up in a tie, then it's a push and you get your stake back. This is known as a 2-way moneyline. It is called a 2-way moneyline because you can only wager on two possible outcomes. You can bet on Team A to win, or Team B to win.
The other type of moneyline bet is known as a 3-way moneyline. This is because these bets give you the opportunity to wager on one of three outcomes. You can bet on Team A to win, Team B to win, or you can bet on a tie. Incorporating the tie into the mix changes everything. Let's say you wager the moneyline on the Green Bay Packers to beat the Minnesota Vikings. You can only win if the Packers win. If the game ended in a tie, then it is no longer a push. Instead, that counts as a loss.
One aspect of 3-way moneylines that a lot of bettors like is that the odds are better. For example, the 2-way moneyline odds for the Buffalo Bill versus the LA Rams are:
Buffalo Bills -110
LA Rams -110
Meanwhile, the 3-way odds would look something like this:
Buffalo Bills +100
Tie +1100
LA Rams -105
As you can see, the odds for both Buffalo and Los Angeles are a bit more attractive on the 3-way moneyline. The +1100 odds on the draw are pretty enticing as well when you consider how evenly these teams are matched.
This is a good time to mention Double Chance bets. This type of wager is a hybrid moneyline bet of sorts. They are essentially 3-way moneylines in which you can cover two of the three possible outcomes. This means you can bet on:
Team A to win or a tie
Team B to win or a tie
Team A to win or Team B to win
The main takeaway from all of this is that you should find an online betting site that offers a variety of NFL moneyline betting options. This gives you a lot more flexibility and allows you to take a different betting approach to different NFL games.
Parlays and Same-Game Parlays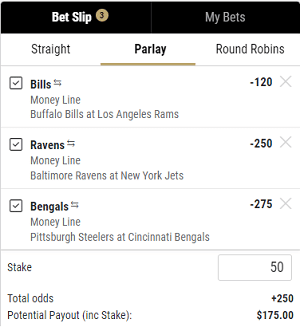 Parlays are a great way to increase the amount of money you can win. For those who aren't familiar with parlays, they are wagers that involve multiple picks on a single ticket. For instance, you could wager on Buffalo, New Orleans and Cincinnati to all win their respective games on the moneyline. While these bets are riskier than single wagers, they can yield some pretty impressive profits. Just be aware that you need every selection you make to be correct. Just a single wrong pick ruins the entire bet.
The best NFL betting sites offer same-game parlays too. In other words, you can wager on multiple selections from a single game. An example would be betting on the New York Jets moneyline and the game total or other proposition offered on that particular game.  Again, you need to nail all of your selections or else the ticket goes up in flames.
Promotions
You should absolutely make sure that your sportsbook offers a regular selection of NFL promotions. These offers can increase your win rate and make those victories a lot more profitable. In addition to a welcome bonus such as bonus betting cash, free bets, and risk-free bets, the best sites offer NFL promotions like boosted odds, parlay insurance, parlay profit boosts, and Bet & Get offers. Top online sportsbooks always have something special for NFL bettors.
Basic NFL Moneyline Betting Strategy
Almost all profitable NFL bettors employ some kind of strategy. However, it's important to understand that there are no sure-fire ways of winning. If there was, then sportsbooks would quickly go out of business.
While it should always be entertaining, the goal of NFL betting is to make money. This is much easier said than done. Still, you can give yourself the best chance to win by doing certain things. Perhaps the most crucial component of a successful strategy is researching the games you want to bet on. Studying matchups in depth gives you a better sense of what to expect. A lot of bettors even find strong angles that they may not have previously considered.
A successful NFL betting strategy also calls for getting the best possible odds. We already explained why this is critical. Furthermore, you should take advantage of bonuses and promotions as they help you increase your profits which is what it's all about.
Finally, the most profitable bettors never go on tilt and try to chase their losses. If you took it on the chin in the afternoon games, don't try to win it back on the night game out of desperation. This is a great way to zero out your account balance. You need to learn to shake it off and move on.
NFL Moneyline Betting Promotions
We touched on some of the NFL betting promotions earlier. Let's go over them again and briefly explain how they work and how they can help you.
We will start by looking at the most common types of welcome bonuses. The easiest to explain would be cash bonuses. Simply put, some sportsbooks will match a certain percentage of your first deposit. Some even offer reload bonuses. These bonus cash offers give you more money to make moneyline wagers and other bets with. The risk-free bet is another common bonus type. With these, you place your first NFL moneyline bet.
If you win, then you walk away with your profits as you normally would. If you lose your risk-free bet, then the sportsbook will refund your stake in full. Then we have free bets. You might receive one for signing up, or you may have to place a wager to earn it. In both cases, it gives you a shot at winning free money.
We also mentioned a few different types of promotions. Boosted odds is a great one. Whereas the regular moneyline odds for your team might be -150, a boosted odds promotion could shorten the odds to even money. Parlay boosts add a percentage of the win amount if your parlay wins. This can have a significant impact on the amount you can win. Then there are offers like NFL parlay insurance. Remember we told you that you need to hit each selection on your parlay for it to win? With the average parlay insurance promotion, the sportsbooks will refund your stake if you miss one selection.
There are several different types of NFL promotions that you can participate in every week. Taking advantage of them will help you minimize your losses and maximize those sweet wins.
Where Can I Bet NFL Moneylines Online?
Now that you understand what NFL moneyline betting is all about, you're probably wondering where you can bet on them. Unfortunately, not all American states have legalized online sports betting. However, many states have. Here is a list of states that offer online Moneyline betting on the NFL:
Arizona
Colorado
Connecticut
Illinois
Indiana
Iowa
Louisiana
Michigan
Nevada
New Hampshire
New Jersey
New York
Pennsylvania
Rhode Island
Tennessee
Virginia
Washington DC
West Virginia
Wyoming
It also appears that the following states will offer legal sports betting soon: