The news has been really good recently regarding potential returns for the NBA and NHL, as well as what appears to be an on-time start to the college football and NFL seasons. In other words, you are going to have to have a robust bankroll to be prepared for all of the sports coming up in the summer and fall.
Our friends at DraftKings Sportsbook are ready to help. They've already been offering free bets and additional perks and promotions to bettors that have been diving into golf, NASCAR, and UFC wagering. That is the case once again for this Saturday's UFC 250 at the UFC APEX in Las Vegas.
That's right, betting fanatics, big profit boosts are available at DraftKings Sportsbook for UFC 250! Along with up to $1,000 in deposit bonuses with our exclusive bonus code here at ATS, you can take advantage of a special offer this weekend for Profit Boosts on five of the 12 fights on the Saturday June 6 card for UFC 250.
Whether you already have a DraftKings account or you want to sign up for one in advance of the upcoming fight card, you will be able to opt-in for this weekend's promotion.
The five eligible fights are Aljamain Sterling vs. Cory Sandhagen, Anthony Rocco Martin vs. Neil Magny, Cody Garbrandt vs. Raphael Assuncao, Eddie Wineland vs. Sean O'Malley, and Amanda Nunes vs. Felicia Spencer. The Profit Boost is going to give you 50% extra on your winnings up to $100 on those five main card bouts.
Here's how it works:
– You'll have to make sure that you Opt-In on the Promotions page or if you receive a pop-up offer for the promotion
– The promotion is only available for DraftKings customers in Indiana, New Jersey, Iowa, Pennsylvania, and West Virginia
– When you choose the fighter you want, you will have to select the Profit Boost in the Bet Slip BEFORE you lock in your wager
– The maximum bet amount with a Profit Boost is $50 and the maximum additional winnings on top of your Win Amount is $100
– Boosts are available for each of the five fights, but you can only use one boost per fight
– The Profit Boost excludes live bets, parlays, free bets, cash out bets, and voided bets
If you want to gamble with your Profit Boosts, Eddie Wineland and Felicia Spencer are big underdogs in their respective matches. You can also use the Profit Boost as a means of cutting down the juice on the big favorites Sean O'Malley and Amanda Nunes in those matches with some extra winnings from laying the big prices.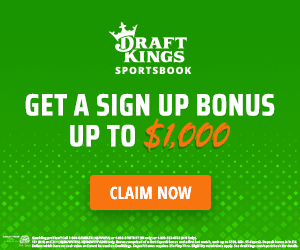 Aljamain Sterling vs. Cory Sandhagen, Anthony Rocco Martin vs. Neil Magny, and Cody Garbrandt vs. Raphael Assuncao all appear to be much more competitive fights, but you'll be able to apply the Profit Boosts on whichever fighter you want in those matches.
For more fight breakdowns and a look at the UFC 250 card, we encourage you to check out our preview and predictions for Saturday night.
We also encourage you to really consider signing up for DraftKings prior to UFC 250. This is an excellent time to get set up and have your bankroll in place. Golf returns with the Charles Schwab Challenge next week. NASCAR is scheduled to run every weekend for the next little while. The NBA looks to be set for a quick regular season "tournament" and then the playoffs at the end of July. MLB will likely be back in early July once the owners and players come to an agreement. It won't be long until we're talking all things college football and NFL.
The time is now to get situated and familiarized with DraftKings Sportsbook in advance of what will be five extremely busy sports months to round out 2020. These Profit Boosts are just another reason to sign up for an account at DraftKings.