The 2023 NCAA Tournament field is set, with 68 teams vying for the right to be called national champions. Here, we look at the field for March Madness, and you can keep scrolling to get your hands on this year's NCAA Tournament printable bracket.
2023 NCAA Tournament Printable Bracket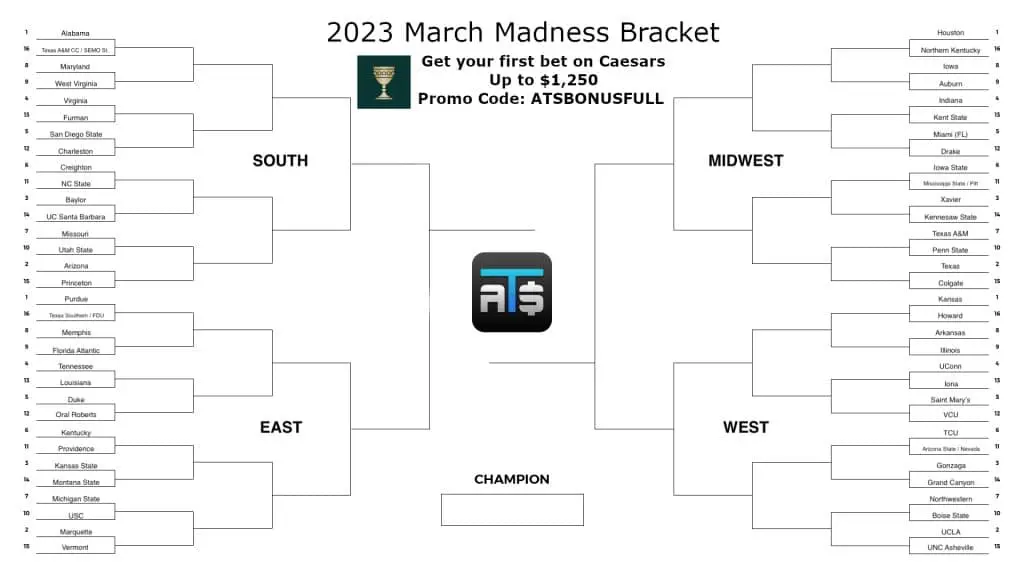 Print your 2023 NCAA Tournament bracket here
2023 NCAA Tournament Schedule
The NCAA Tournament begins on Tuesday, March 14, 2023 with the First Four, where eight teams will fight for a spot in the round of 64 in the tournament. The first round, for which bettors can fill out their NCAA Tournament printable bracket, begins on Thursday, March 16. The tournament will go on until Monday, April 3, 2023, when the national championship game takes place. Here is a full breakdown of the 2023 NCAA Tournament schedule.
First Four: March 14-15
First Round: March 16-17
Second Round: March 18-19
Sweet Sixteen: March 23-24
Elite Eight: March 25-26
Final Four: April 1
National Championship: April 3
Best Sportsbooks to Use to Bet On NCAA Tournament
2023 NCAA Tournament Futures Prediction
While they do not have the best NCAA Tournament odds, the Alabama Crimson Tide are the number one overall seed in the tournament for a reason. They are led by a future NBA star in Brandon Miller who, despite being involved with a nasty situation off the court, has been playing at an elite level. Combine that with the three-point shooting ability of this team and their ability to win at different tempos, and the Crimson Tide are worth playing at +800.
If you are not sold on the Crimson Tide, the top-two teams from the Pac-12 may be worth betting on at longer odds. UCLA and Arizona could both come away with the national title, with the size of Arizona and the experience of UCLA both being valuable assets.