100% up to $2,500 + 2500 Reward Credits®
Caesars Palace Online Casino
Get promo code
Gambling Problem? Call or TEXT 1-800-Gambler 21+
Bonus offer
100% up to $2,500 + 2500 Reward Credits®
Caesars Promo Code
States Available
NJ, MI, PA, WV
Website
Overall rating 5 /5
Are you looking for the best slots on Caesars Palace Online Casino? Then, you've come to the right place. Continue reading as we count down the top 5 online slot games at Caesars in 2023, introduce you to some of the casino's highest RTP slots, and provide some tips to help you make the most of your online gaming experience!
In the competitive iGaming industry, Caesars Palace Online Casino stands out as one of the premier online gaming destinations in New Jersey, Pennsylvania, and several other U.S. states.
While Caesars is perhaps better known for its online sportsbook, they also offer one of the best online casinos in the United States, bringing the excitement and thrill of Las Vegas right to the comfort of your home with hundreds of virtual slot machines and casino-style games that cater to every type of player.
But with so many options available, it can be a bit overwhelming trying to figure out where to start. Maybe you're trying to find the slots that give you the best odds. Or, perhaps, you're looking for the games that offer the biggest jackpot prizes. Well, that's where we come in.
In this article, we'll explore the best Caesars Palace Online Casino slots in 2023. We'll introduce you to some of the most popular and thrilling games available today, explore some of the games that give you the best chance at success, and provide all of the information you'll need to sign up and get started today. Now, let's dive right in!
---
General Overview: Pros & Cons of Caesars Online Casino Slots
Before we dive straight into the details, let's first take a quick look at some of the biggest advantages and disadvantages offered by the best slots at Caesars Palace Online Casino. This will help further introduce you to the platform and give you a better idea of what to expect going forward!
Pros
Hundreds of Slots With High-Quality Graphics & Immersive Sound Effects
Great Selection of Progressive Jackpot Slots
Wide Range of Themes, Denominations, and Bonus Features
Games Are Well Organized
New Titles Are Added Regularly
User-Friendly Mobile App for Gameplay
Cons
Only Available in MI, NJ, PA, & WV
No Search Bar Available
---
What Are the Best Slots on Caesars Palace Online Casino?
Choosing the best slots at Caesars Online Casino is no easy task. Why? Because it all depends on your individual preferences. Each player has their own unique taste when it comes to slot games. What might be the ultimate slot experience for one could be entirely different for someone else.
Some players crave the thrill of high-volatility slots, where big wins and heart-pounding moments await, while others find comfort in the steady rewards of low-volatility games. Additionally, there are those who appreciate the classic simplicity of three-reel slots, and then there are those who seek the immersive storytelling and bonus features of modern video slots.
The good news is, Caesars Palace Online Casino has got something for everyone. They've lined up a diverse range of slots to match your unique style and taste, ensuring your online gaming experience is just the way you like it.
So, what's in store for you? Let's dive into the different slot categories you can explore once you're part of the Caesars Palace Online Casino community:
Video Slots
Video slots are the crown jewels of online casinos, and Caesars Palace Online Casino boasts a stunning collection of them. These games are more than just a chance to win; they're a visual and auditory experience. You can immerse yourself in captivating themes, from ancient civilizations to outer space adventures.
With high-quality graphics and engaging bonus rounds, these slots provide an interactive and cinematic gaming journey. Whether you're joining a heroic quest or exploring underwater worlds, the diversity of video slots at Caesars Palace ensures there's always something exciting to discover.
Here are a few of the best video slots currently available at Caesars:
Hootie's Fortune
Rise of the Mountain King
Ultimate Heist
Hotline 2
Wolf Run
Platinum Goddess
Quadruple Da Vinci Diamonds
Classic Slots
Classic slots, often known as fruit machines, are a beloved nod to the past. These games feature timeless symbols like fruits, bars, and lucky 7s. They offer a straightforward gaming experience without the bells and whistles of modern slots.
If you appreciate simplicity and a touch of nostalgia, these classic slots are your go-to. While they may lack intricate bonus features, they make up for it with their charm and the potential for steady, smaller wins. 7s Wild and 88 Fortunes are a few of the most popular classic slots at Caesars that we recommend trying if you're a fan of the good old days of slot gaming.
Progressive Jackpot Slots
For those who dream of hitting the big one, Caesars Palace Online Casino's progressive jackpot slots are where you should set your sights. These games offer a chance at life-changing wins because they're part of a network where a portion of every bet contributes to the jackpot. As a result, these jackpots can reach astronomical heights.
Playing a progressive jackpot slot is like participating in a collective adventure where you and fellow players chase after a shared dream of hitting that massive jackpot. Your next spin could be the one that changes your life forever, and you may want to check out Divine Fortune, Vegas Night Life, and Imperial Riches at Caesars Online Casino if you're one of those dreamers with your eyes set on a massive win.
Megaways Slots
Megaways slots are a relatively new and innovative addition to the world of online slots. What sets them apart is their ever-changing reel layouts, which offer a multitude of ways to win on every spin. This dynamic feature keeps the excitement levels high, as you never quite know what the next spin will bring.
With various themes and mechanics, these slots add an element of surprise to your gaming experience. They're perfect for those who enjoy a dynamic and unpredictable journey through the reels. Atlantis Megaways, Hypernova Megaways, and Spartacus Megaways are just a few examples of the exciting Megaways slots at Caesars that you can explore for a taste of this modern twist on slot gaming.
---
Top 5 Slots at Caesars Online Casino in 2023
With so many slots to choose from, it's quite easy to feel overwhelmed and not know where to start. But don't worry, we've done the legwork to bring you the top 5 slots that players are absolutely raving about at Caesars Palace Online Casino in 2023: Capital Gains, Wheel of Fortune Triple Extreme Spin, Cash Machine, Atomic Meltdown, and Cleopatra II
These games aren't just popular; they're the ones that folks can't stop talking about. Now, let's take a closer look at the best slots on Caesars Online Casino and figure out what makes them so special: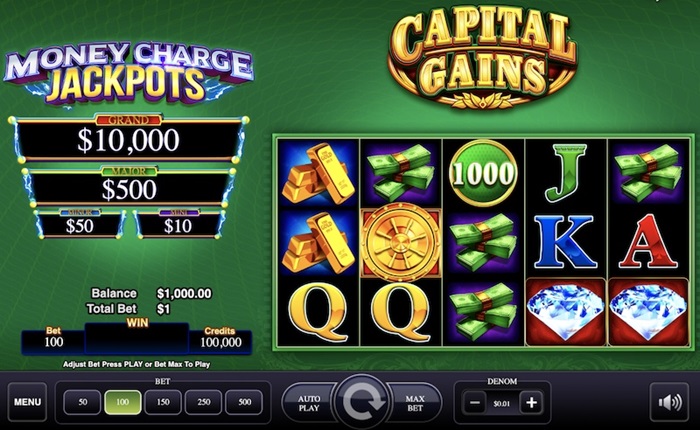 5. Capital Gains
Provider: American Gaming Systems (AGS)
Release Date: 2020
RTP: 95.86%
Capital Gains is an exciting online slot game from AGS, a developer best known for its popular land-based slots. In this game, you have the chance to win in 243 different ways thanks to the PowerXStream win system, which means you match symbols on adjacent reels for wins. The symbols include things like J, Q, K, A, money bags, and gold coins, each with their own payout values.
One of the highlights is the free spins feature, where you can earn between 6 and 15 free spins, and they come with extra wild symbols to boost your chances of winning. Plus, there's the Money Charge Bonus, offering the opportunity to win one of four progressive jackpots by collecting green charge symbols.
With its free spins, progressive jackpots, and various betting options, Capital Gains offers an entertaining and potentially rewarding gaming experience. Give it a spin today at Caesars Palace Online Casino and see if you can break the bank!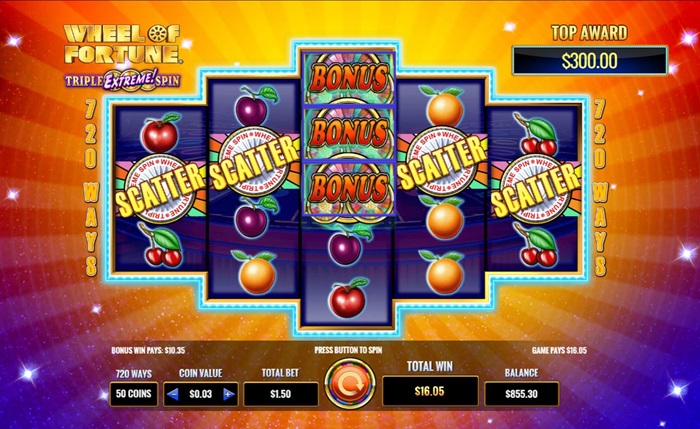 4. Wheel of Fortune Triple Extreme Spin
Provider: International Game Technology (IGT)
Release Date: 2015
RTP: 94.04%
Wheel of Fortune Triple Extreme Spin is a fun slot game inspired by the iconic American game show. It's got five reels and an impressive 720 ways to win, so you've got lots of opportunities for landing winning combinations. The best part is the Triple Extreme Spin Bonus – land three or more Scatters, and you get to spin that famous wheel. It's like being on the TV show!
When you spin the wheel, you can win cash prizes, multipliers, and even access to a mini-wheel for extra bonuses. What's also cool is the game's MultiWay Xtra feature, which lets you win from both left to right and right to left, so there are plenty of chances to score big.
Plus, there's a free spins feature to keep the excitement going. It's a thrilling and potentially lucrative slot that brings the TV show experience right to your screen, and it's now available at Caesars Online Casino!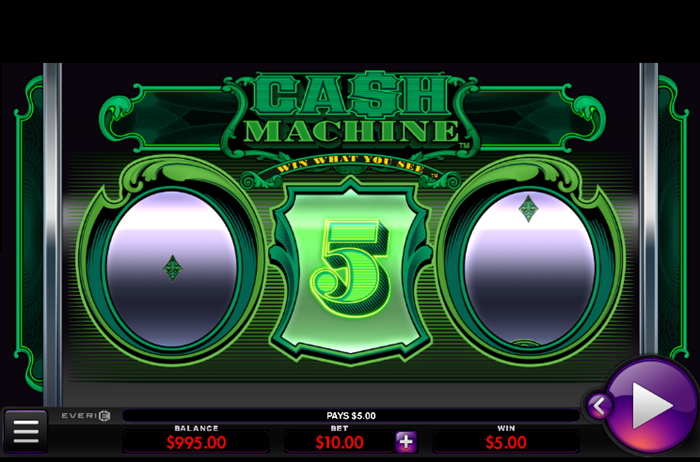 3. Cash Machine
Provider: Everi
Release Date: 2020
RTP: 96.00%
Cash Machine is another fantastic slot game at Caesars Palace Online Casino, and it seamlessly blends a classic casino vibe with a modern twist. The slot features a 3×3 grid layout, reminiscent of traditional mechanical slots, and is adorned with colorful symbols like coins, dollar signs, and bars.
Notably, the "Any 9" bonus is a standout feature where landing any combination of nine matching symbols on the reels can lead to substantial payouts. Additionally, the "Match It Up" bonus offers a chance to multiply winnings when you match specific symbols.
Overall, Cash Machine skillfully combines nostalgia with contemporary features, making it particularly appealing to players who enjoy both the simplicity and charm of classic slots and the excitement of modern gameplay.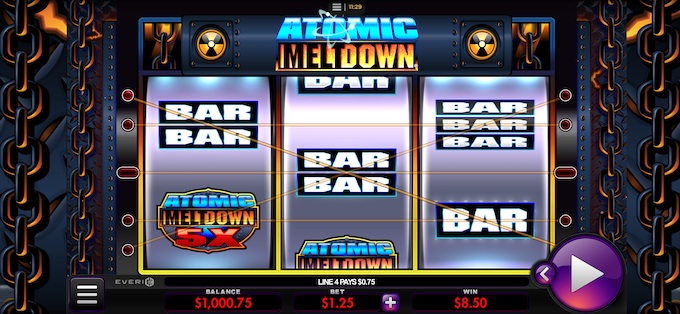 2. Atomic Meltdown
Provider: Everi
Release Date: 2020
RTP: 96.00%
Coming in at No. 2 in our rankings is Atomic Meltdown by Everi. This slot, released in 2020, offers a classic and nostalgic gaming experience with a 3×3 grid layout and vibrant symbols that include traditional slot icons like bars, cherries, and sevens.
The standout feature in this game is the Atomic Respin bonus, which triggers when you land two matching symbols on the first two reels. The third reel is held, and you receive respins, potentially leading to a rewarding winning combination.
Atomic Meltdown focuses on simplicity and the charm of retro slot machines, making it an excellent choice for players who appreciate the classic slot experience. It's a straightforward and engaging game that pays homage to the vintage era of slots while adding a touch of excitement with the respin feature.
If you're looking for a blend of nostalgia and fun, the Atomic Meltdown slot at Caesars Online Casino is a fantastic choice in the world of slot gaming.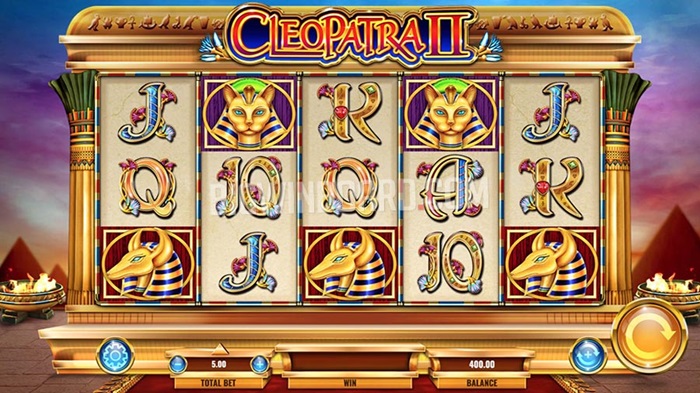 1. Cleopatra II
Provider: International Game Technology (IGT)
Release Date: 2021
RTP: 95.88%
Taking the coveted top spot on our list, Cleopatra II at Caesars Palace Online Casino is a beloved sequel to the classic Cleopatra slot, whisking players away on a captivating journey to ancient Egypt.
In this game, the magic of its predecessor is beautifully preserved, but it also amps up the excitement with higher volatility, promising the potential for more significant wins amidst an atmosphere of suspenseful gameplay.
The reels are adorned with iconic symbols, featuring the Sphinx, Cleo II Logo, Bastet, Horus, and Anubis, creating a vivid depiction of Egypt's timeless allure. Notably, the Cleo II Logo is a game-changer, doubling your winnings when it's part of a winning combination. And if you're lucky enough to land five logos on a payline, brace yourself for a massive jackpot win.
But there's more – Cleopatra II offers free spins triggered by Sphinx symbols. These free spins come with scatter pays and bonus multipliers, adding an extra layer of excitement to the gaming experience. With flexible betting options catering to both moderate and high-stakes players, Cleopatra II promises an enchanting journey through ancient Egypt, where riches and thrilling gameplay are the order of the day.
---
Best RTP Slots on Caesars Palace Online Casino
RTP, which stands for Return to Player, is an important concept when it comes to slot machines and casino games. Think of it as the percentage of money that a slot machine is expected to give back to players over time. In simple terms, it tells you how much of the total bets placed on a slot will be returned to players as winnings in the long run.
For instance, if a slot has an RTP of 95%, it means that, on average, for every $100 that players bet, the machine will pay back about $95 as winnings, keeping the remaining $5 as profit. Keep in mind that this is calculated over a lot of spins, so individual results can vary.
Understanding RTP is helpful for players because it gives you an idea of how generous a slot might be. A higher RTP generally suggests a better chance of getting more of your bets back over time, so it makes sense that you may want to target games with higher RTPs for extended gameplay and improved odds of winning in the long run.
Here are a few of the best and highest RTP slots at Caesars Online Casino today:
Blood Suckers: 98.00% RTP
Panda Queen: 97.05% RTP
10X Fortune: 97.04% RTP
Guns 'n' Roses: 96.98% RTP
Imperial Riches: 96.88% RTP
Monopoly Utility Trails: 96.61% RTP
Divine Fortune: 96.49% RTP
---
How To Sign Up & Play the Best Slots Online at Caesars
Time needed: 5 minutes
Are you ready to sign up and start playing the best slots on Caesars Online Casino? Just follow the steps outlined below!
Visit the Website/Download the App

To begin your online casino adventure, head over to the Caesars Palace Online Casino website using your smartphone, tablet, or whichever device you prefer. You can also opt to download the Caesars Palace Casino mobile app from the App Store or Google Play Store.

Sign Up for an Account

Once you're on the website, it's time to sign up. Choose your state, and let's get you registered. You'll need to provide some personal information, such as your name, email address, and date of birth. Don't forget to pick a strong password. Make sure to read and agree to the Terms & Conditions and then enter the promo code ATSLAUNCH to opt into the Caesars No-Deposit Bonus for all new players.

Verify Your Account

Caesars Palace Online Casino will guide you through verifying your account. This step usually requires you to enter the last four digits of your Social Security Number. In some cases, you may also need to provide a form of government-issued ID, such as your driver's license or passport.

Make Your First Deposit

Now, it's time to make a deposit. Just choose your preferred payment method, type in the amount you'd like to add, and confirm the transaction. It's that simple.

Start Playing Slots & Winning Big

Start spinning the reels and playing all of the best online slots at Caesars Palace Casino for a chance to win big. Have fun and good luck!
---
Caesars Online Casino Slots Glossary: Key Terms To Know
If you're diving into the exciting world of online slots for the first time or need a quick refresher on slot lingo, take a peek at the table below. It's packed with essential terms that'll come in handy during your online gaming adventure!
| Term/Phrase | Definition |
| --- | --- |
| Autoplay | A feature allowing the slot to automatically spin the reels a specified number of times. |
| Bonus Game | An extra round or feature within the slot game that offers additional prizes or entertainment. |
| Cascading Reels | A feature where winning symbols disappear and are replaced by new ones, potentially creating multiple wins in a single spin. |
| Free Spins | Bonus rounds that allow you to spin the reels without using your own money. |
| Hold and Spin | A feature where certain symbols are held in place while other reels are spun again. |
| Max Bet | The highest possible wager you can place on a single spin. |
| Payline | The line on which winning combinations of symbols must land to count as a win. |
| Paytable | A chart that displays the winning combinations and their respective payouts. |
| Progressive Jackpot | A continually growing prize that increases with each bet until it's won. |
| Reel | The vertical column on the slot machine grid where the symbols are displayed. |
| RTP (Return to Player) | The percentage of bets that a slot machine is expected to return to players over time. |
| Scatter Position | A special symbol that can trigger bonuses or free spins, often regardless of payline position. |
| Sticky Wilds | Wild symbols that remain in place for several spins, increasing your chances of winning. |
| Volatility | A measure of how risky a slot game is in terms of potential payouts and frequency of wins. |
| Wild Symbol | A symbol that can substitute for other symbols to create winning combinations. |
---
Strategies & Tips for Playing the Best Slots on Caesars
Before we wrap things up, let's take a minute to go over a few of the best strategies to use and guidelines to follow to increase your chances of long-term success while playing the best slots at Caesars Palace Online Casino:
Choose Slots Wisely
Start by selecting the right slot games. Each slot has its own unique theme, features, and RTP. Some slots offer bigger jackpots but may be less frequent, while others provide smaller, more regular wins. It's essential to find the balance that suits your gaming style and budget.
Understand RTP
The Return to Player (RTP) percentage is crucial. Higher RTP slots are generally more favorable for players in the long run, as they pay out a larger portion of bets. Look for games with a high RTP to maximize your chances of winning.
Practice Using Demo Mode or Free Play Opportunities
Many online casinos, including Caesars Palace, offer free play or demo modes for their slots. Take advantage of this to familiarize yourself with the game's mechanics, paytable, and bonus features before wagering real money.
Approach Progressive Jackpots With Caution
While progressive jackpot slots offer life-changing prizes, they are usually harder to hit. If you decide to try these slots, be prepared for longer gaming sessions. Remember to bet within your budget and be patient, as hitting the jackpot is a rare but thrilling occurrence.
---
Caesars Online Casino Slots FAQ
What Are the Best Slots on Caesars?
Cleopatra II, Atomic Meltdown, Cash Machine, Wheel of Fortune Triple Extreme Spin, and Capital Gains are a few of the best slots currently available at Caesars Palace Online Casino. However, there are hundreds of other options available, so feel free to explore and figure out which ones fit best with your personal preferences and unique style of play!
Where Can You Play Caesars Online Casino Slots?
You must be physically located in Michigan, New Jersey, Pennsylvania, or West Virginia to sign up and wager real money on slots with Caesars Palace Online Casino.
Does Caesars Online Casino Offer Games Besides Slots?
Yes! Caesars Online Casino offers plenty of classic table games like blackjack, roulette, baccarat, and poker as well as live dealer options and specialty games (keno, virtual sports, etc.) for a well-rounded gaming experience.
How Do I Play the Best Slots Online at Caesars?
To play slots online with Caesars, you will just need to sign up using our exclusive promo code ATSLAUNCH, verify your account, and claim your no-deposit bonus. It's as easy as that!