We said that we would update the Indianapolis Colts Crowd Booster Odds at PointsBet Sportsbook and we had to do not just a double take, but a triple take at where the line has gone.
With this promotion from PointsBet Sportsbook Indiana, the line on the Colts vs. Jaguars game goes up every 100 bets. When we last updated this all the way back on August 29, the line was Colts +1.
It is September 11 and the promotion has changed to every 200 bets, but can you blame them? This line is up to COLTS +38. The line started at Colts -7 way back when it was first posted and it has now made its way to Colts +38. In fact, it's moving so fast that the graphics department couldn't even keep up and it was +37 when the latest email blast was sent out!
Oh, by the way, it is Colts +38 at +100, so you get even money on your bet. The maximum bet size is $25, so PointsBet is essentially offering you a free $25 when you bet on the Colts at +38 because they are not losing to the Jaguars by that many points and, quite frankly, probably won't lose the game at all.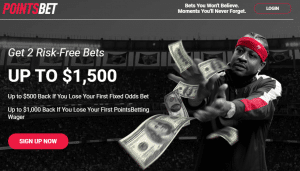 Here's the thing. You don't get the line when you bet it. You get the closing line. By Sunday's kickoff, there could be another 1,000 bets on this promotion and the line will move to Colts +43. There could be another 2,000 bets on this promotion and the line will move to Colts +48. Whatever the line closes at kickoff, that is the number that you will get.
This is such an outstanding offer from PointsBet and it is great to start off the season with an NFL winner, no matter how you get it. In this instance, you get it by betting on the Colts plus a whole bunch of points. Remember, Indianapolis is -8 right now otherwise, so this is truly a special Crowd Booster promo from PointsBet.
If you don't have an account, you can also take advantage of up to $1,500 in free bets if you sign up through us at ATS.
Sign up now and good luck in Week 1!