It will be a treat to see Indianapolis Colts legend Peyton Manning back in a competitive environment. While The Match II: Champions for Charity is exactly that, a match for charity, the competitive juices flow deep for Tiger Woods, Phil Mickelson, Peyton Manning, and Tom Brady. Those four gentlemen will tee it up at Medalist Golf Club in Hobe Beach, Florida for COVID relief and DraftKings Sportsbook has teed up an excellent promotion to help you enjoy the event even more.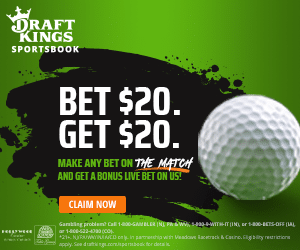 Tiger and Phil have quite a history between them, including Phil's $9 million win in The Match back in 2018, the made-for-TV pay-per-view event that came down to extra holes. We all know about the history between Manning and Brady. Those two often found each other during the AFC playoffs. While Brady has six Super Bowl rings to Manning's two, the bragging rights on Sunday May 21 look likely to go to the team of Manning and Woods.
DraftKings Sportsbook is offering a Bet $20, Get $20 promotion for The Match on Sunday May 24. If you bet $20 on any market for the Match, which means the odds to win the match or any of the prop bets listed at DraftKings, you will get a $20 Free Live Bet to use during the event.
The initial bet does not have to be a $20 wager. You just have to bet $20 on the event itself, so you could put $10 on Tiger and Peyton and $10 on a prop that you like. You could make four different $5 bets. You just have to get to $20 in some way, shape, or form and then you'll get the $20 Free Live Bet added to your account. Be sure to opt in to the promotion so that you can receive your free bet.
Live bets and parlays do count towards the $20 as well, so you can take some risks with your $20 and look to take advantage of the Free Live Bet to freeroll the rest of the tournament. The terms of the $20 bet do exclude cash out bets and odds boosts, so those won't count towards the mandatory wager amount.
Bets must be placed in one of the six states where DraftKings operates, which are Indiana, New Jersey, West Virginia, Pennsylvania, Iowa, and Colorado.
At time of writing, Tiger and Peyton were -225 against Phil and Tom. Peyton is said to be a 6 handicap and Brady is said to be an 8 handicap, so the difference in the match could come down to the two quarterbacks. The front nine is a best ball format, so all four players will be hitting every shot. The back nine, however, is a modified alternate shot. All four players will hit off the tee and then the team will select the best shot and alternate after that. Therein lies the strategy, as it may make more sense to take a shorter drive from Manning or Brady to let the pro golfer hit the iron shot as opposed to the longer drive and the iron from the amateur.
Prop bets include the leaders after 3, 6, 9, 12, and 15 holes, the first team to take the lead, whether or not a hole in one will be recorded, the winning hole of the match, the more holes won of the par 3, par 4, and par 5 holes, and scoring on specific holes.
This is tough because this is not a course with a lot of information. This is an extremely private course that has very high membership dues. Tiger is a member and so are a lot of other golfers. Medalist Golf Club is definitely going to play like a bear, especially for Tiger and Phil, who will be teeing off from the "Tiger Tees", which extend the course by over 300 yards compared to the tips.
The front nine props are really interesting because those will ultimately be Tiger vs. Phil. It is a best ball format and it will likely be rare to see shots from Manning and/or Brady used by the professionals. Brady and Manning could be of greater assistance on the putting surface, but the front nine seems more like a head-to-head duel than a team event.
The back nine is dramatically different. That is where Peyton Manning will have an impact and bring this one home for Indiana and Colorado in honor of Colts and Broncos fans. Manning is a better player than Brady, who has already had a whirlwind winter and spring with his departure from New England, his signing in Tampa Bay, and everything else that he has had going on. Manning has likely been able to practice a lot more for the event.
Go ahead and throw that $20 bet on Tiger Woods and Peyton Manning and then enjoy your Free $20 Live Bet from DraftKings Sportsbook after you opt into the promotion.
If you don't have an account at DraftKings, we would encourage you to click our link and sign up through us to get an exclusive deposit bonus worth up to $1000 in risk-free bets and other promotions.
Promo Terms:
-The Match: Champions for Charity (5/24)
-Available for new and existing users
-After registration and deposit place $20+ in bets on 'The Match' and get a $20 Free Live Bet to use during the event
-Users can place multiple bets to reach their qualifying total
-Bets require minimum odds of -250 or longer (e.g. -200, +150, etc.)
-Once users have placed $20+ in qualifying bets, users will receive a $20 Free Bet to use Live during 'The Match: Champions for Charity'
-Includes live bets and parlays
-Excludes free bets, cash out bets, voided bets, and odds boosts
-Bet must be placed in the State of New Jersey, West Virginia, Pennsylvania, Indiana, Iowa, or Colorado