Go Full Caesars Up To $1250 Risk-Free
Caesars Sportsbook
Get promo code
Gambling Problem? Call or TEXT 1-800-Gambler 21+
Bonus offer
Go Full Caesars Up To $1250 Risk-Free
Caesars Promo Code
US States Applicable T&C
AZ, CO, IA, IL, IN, KS, MI, NV, NJ, NY, PA, TN, VA, WV
Platforms
Desktop/Android/iOS
Website
Overall rating 5 /5
AZ, CO, IA, IL, IN, MI, NV, NJ, NY, PA, TN, VA, WV
CAESARS ONLINE SPORTSBOOK REVIEW
Caesars Sportsbook is one of the most popular sports betting apps in the US. Betting on the Caesars app is easy for those located in states including AZ, CO, IA, IL, IN, KS, MI, NV, NJ, NY, PA, TN, VA, WV.
And it is easier than you think for residents of adjacent states. For example, How do I bet on sports in California? Well, you can sign up online, download the app, deposit, and then just get within the borders of Arizona and start making your bets. You'll just have to be in Arizona every time you use it. This same process works for any of the bordering states of legal sports betting state.
The Garden State was the first state to with legal online sportsbooks in 2018 and one of the first sportsbooks that came west from Las Vegas is Caesars Palace Sportsbook. Caesars has had an extended presence in Atlantic City dating back to the 1970s with properties like Bally's, Harrah's, and Caesars. Now, Caesars Sportsbook has reaffirmed its presence in the ever-growing sports betting landscape by launching an online platform for taking wagers.
Obviously, with its presence in Sin City, Caesars already had plenty of experience with operating an app, so it was a seamless transition to loop the New Jersey sportsbook and other states into the program. Fortunately, adding more states to the mix forced the developers to provide some upgrades that have created a faster, cleaner sports betting experience.
With Caesars Sportsbook, you know you are getting the opportunity to bet with one of the best as far as US sports betting operators.
What Is the Caesars Sportsbook Bonus Code?
For 2022 the Caesars sportsbook bonus code is ATSBONUSFULL, this allows new users to get a Risk Free First Bet of up to $1250 when creating their Caesars Sportsbook account.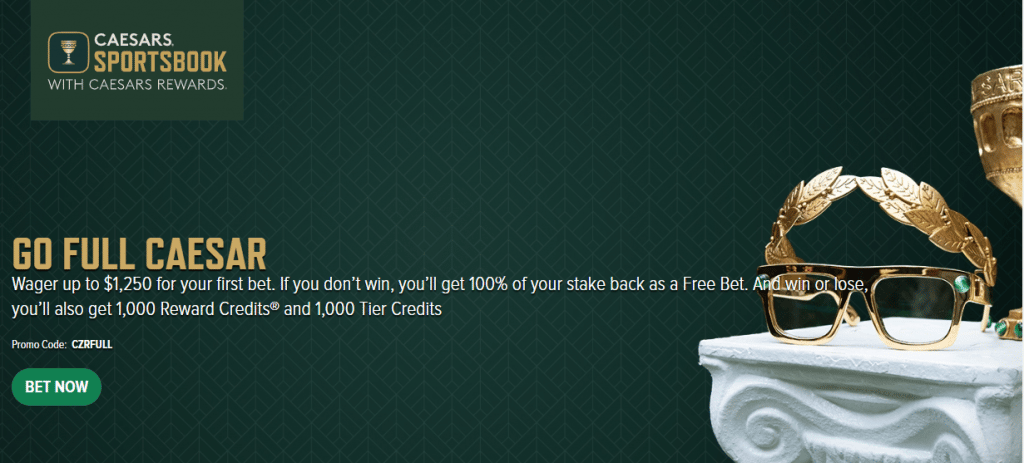 ---
How do I use the Caesars Sportsbook bonus code?
To use the Caesars sportsbook bonus code the first step is claiming the offer the below or copying and pasting the new user sign up bonus code ATSBONUSFULL.
Enter the Caesars Sportsbook bonus code here when filling out the easy to use the registration form.
Quickly verify your account, make a first deposit, and your first bet. If it loses you will be awarded the amount you risked back!
---
CAESARS SPORTSBOOK pros & cons
Caesars Sportsbook Pros
Massive first bet insurance
Caesars Rewards Program
Best Mobile Betting APP!
Competitive Odds
Daily Odds Boosts
Caesars Sportsbook Cons
Few Small Market Sports
No Live Stream Sports
Dull Desktop website
---
CAESARS BONUS
Caesars offers a lot of bonuses that are competitive with the other operators throughout the US. New account holders get a huge signup bonus and then an ongoing odds boost, Caesars rewards program, and promotions. Caesars offers a lot of daily and weekly specials and other free bets for staying in the game.
Caesars is also running some terrific online casino bonuses as well for online casino states. At its core, this is a company well-versed in all forms of gambling, so it makes a lot of sense that casino offers would be plentiful. You can also use your Reward Credits and convert them into Real Money, much like you can in brick-and-mortar Caesars properties around the US and Canada.
That also means that you can link your Caesars Rewards Program account, which can help you get better deals on hotels, dining, and entertainment by accumulating Tier Credits and Reward points. Many operators have their own rewards programs, but they are limited to use within the app. Almost by default, this makes the Caesars Rewards option one of the best sportsbooks loyalty programs in the US.
CAESARS SPORTSBOOK BETTING APP
Much like a palace, or, well, Caesars Palace, everything that you could want or need exists in the Caesars sports betting app. Straight bets, parlays, teasers, sides, totals, round robins, whatever types of wagers you want to make, you can make them in the Caesars app.
Do you want to bet on MLB? It's there! NFL, NBA & NHL? Also there! College football and College Basketball? There, except in some states where games played in the state are excluded, which is a statewide rule for both CFB and college basketball. International sports like soccer, tennis, golf, and rugby? All there.
Like most sports betting apps, you can use your mobile device or a desktop/laptop to get your bets in, so long as you are in the state and have an account.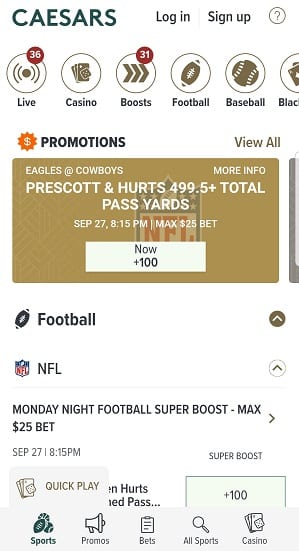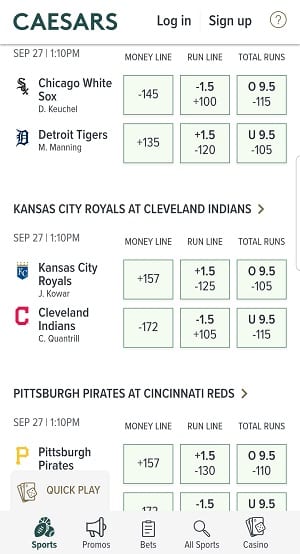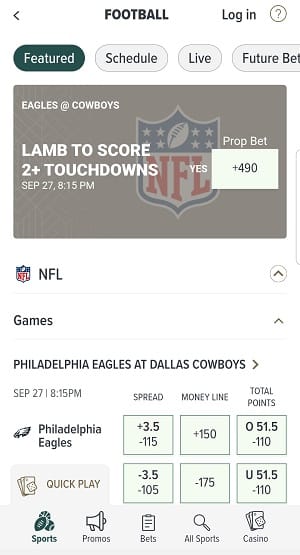 CAESARS SPORTS WEB INTERFACE
Caesars Sportsbook Online Website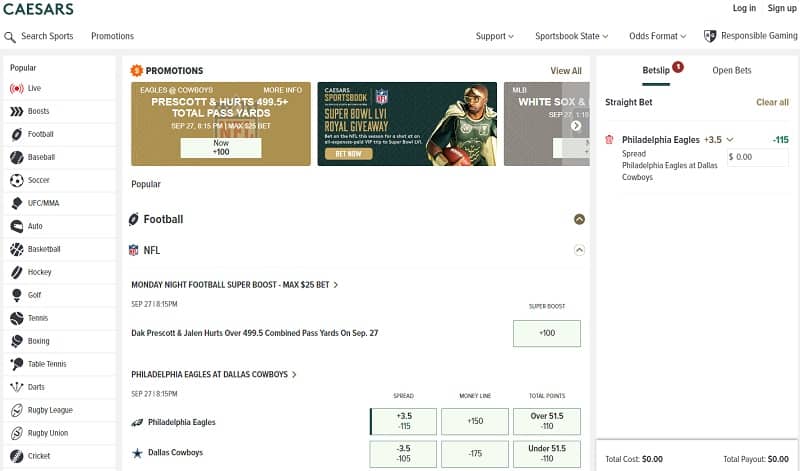 HOW DO I SIGN UP AT CAESARS PALACE SPORTSBOOK
When the worldwide sports betting powerhouse that is Caesars Sportsbook US made its way into the legal US online betting market it was a big deal. Already well-versed in the world of mobile sports betting because of its interests in Europe and Las Vegas, the Caesars Palace Sportsbook app became a no-brainer for sports betting enthusiasts looking to sign up at a US Sportsbook.

With that in mind, the Caesars Betting app is an industry leader. There were no growing pains. There were no questions about the interface or the layout. It was a tried and true app used by millions of customers around the world. That type of reputation doesn't exist with a lot of the other companies.

In terms of functionality, reliability, and overall consumer confidence, Caesars Palace is at the pinnacle of the online sports betting world.
---
How do I sign up at Caesars Palace?
Can you count to 10? Of course, you can. Caesars is even easier than that because there aren't even 10 steps to sign up. There are just a few.
The first step is to access the visit the website here and complete a quick registration process.
Once you have accessed the website, you just follow the prompts to sign up for an account. Some generic personal information is required and some financial information is required if you wish to deposit.
Simply click through and enter all of the pertinent information and then get ready to make your deposit and enjoy your deposit bonus.
Then if you would like to use the Mobile app download them directly from their website and log in!
---
I signed up for an account. Now what?
Time to fund your account using any of the many Caesars Sportsbook banking options. More on deposit and withdrawal options further down.
---
How do I bet on sports at Caesars Palace?
You pick the spreads, totals, money line, futures, and props that you like, you enter a bet amount, and you hit submit!
Caesars offers betting odds on all of the major sports betting markets and very fair prices. You can bet on all of the US pro leagues, college sports, and also a lot of international competitions and events. The NBA? Bet on it at Caesars Sportsbook. The NHL? At Caesars. MLB, NFL, college football, college basketball, UFC, boxing, darts, Aussie rules football, rugby, NASCAR, golf, soccer, tennis? Bet on all of it at Caesars.
Betting isn't restricted to the period before a game either. You can bet while the game is going on. Live betting, or in-play wagering, is a fairly new concept, but you can make bets as the game is being played based on a variety of different factors. Has there been a key injury? Is somebody in foul trouble? Is there a line that looks too good to be true?
Because of Caesars's background in Europe and Nevada, where live betting has been happening for a little while, you would be hard-pressed to find a better live betting feature than what this app has to offer.
caesars Sportsbook FAQ
Caesars Sportsbook has been opening locations throughout the US since it acquired William Hill back in September 2020. They are now available in 14 states that include:
Who Owns Caesars Palace?
In July 2019, Eldorado Resorts bought Caesars Entertainment for $17.3 Billion
What is the Caesars sportsbook promo code to get a risk free bet?
In July 2019, Eldorado Resorts bought Caesars Entertainment for $17.3 Billion
Is Caesars sportsbook legit?
In July 2019, Eldorado Resorts bought Caesars Entertainment for $17.3 Billion
Can you win real money on Caesars sportsbook?
In July 2019, Eldorado Resorts bought Caesars Entertainment for $17.3 Billion
Did Сaesars sportsbook buy William Hill sportsbook?
In July 2019, Eldorado Resorts bought Caesars Entertainment for $17.3 Billion
BETTING BEGINNERS
Something fun for those just starting out, which will be a lot of people in this post-PASPA world, is that the minimum bet on the Caesars app is $1 for straight bets and 1 cent for parlays and round robins.
That means that you can learn with real money in the game, but at very small, very comfortable stakes. Something else that helps bettors from getting in too deep is that you can set daily, weekly, and monthly betting limits so that you don't go overboard.
This is a really cool function and one that few other sportsbooks offer. There are always people that are going to walk into a casino and want to try a table game but won't want to play with the $5 or $10 minimums. They'll walk away sullen and disappointed. The inclusiveness of the Caesars app is a really strong selling point for those that want to dip a toe or maybe a foot in the pool and test the waters. Not all sportsbooks offer that.
There is a common misconception that this is a business where only big money bettors can hang. That's not true. Everybody had to start somewhere and the Caesars app is a great place to start if you aren't quite sure what you are doing, but you want to learn.
SIGN UP TODAY AT CAESARS SPORTSBOOK
This is a great all-around app. It benefits novices that are just starting out and also the more experienced players, especially those that have accumulated some Caesar's Rewards points and are looking to build up their statuses. Everything that you would expect to find in this app is there, with activity on all the major sports leagues and with access to all of the most popular bet types.
This is also one of the most advanced live casino interfaces in the business, so you can enjoy spinning those reels on the couch or get some craps bets in without having to stand up next to the table with cigarette smoke blowing in your eyes. The Caesars Sports app has everything you could possibly want.