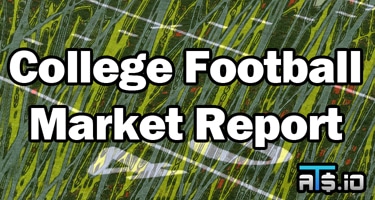 A lot more games are on the betting board this week with the return of the Big Ten and the Mountain West. It would be fair to say that a lot of bettors are taking a wait-and-see approach to the conferences that are just starting out, but there have still been some games with sharp money in those conferences and a lot of games with sharp money across the other conferences.
It is really important to follow the betting markets so that you can see how influential money is evaluating and betting teams from around the country. It is also important to distinguish sharp money versus line moves for other reasons, like injuries, COVID, or weather, though those can also be from astute sharp bettors that hit those games before risk managers and bookmakers could respond.
We've got a lot of games to get to this week, so let's dive right in. Lines are a consensus from PointsBet, BetMGM, DraftKings, and BetRivers.
Here is the College Football Sharp Money Market Report for Week 8:
Tulsa (-11, 49.5) at USF
This looks to be a combination of both sharp money and public money on Tulsa. We've actually seen this line peak at 12 with a relatively low college football total of 49.5. Public piggybackers will take Tulsa here at worse numbers than what sharper money got at 9.5 and 10 earlier in the week. It does seem like we've met resistance at 11.5 and 12, so I don't see this game going the way of Arkansas State vs. Appalachian State and climbing until kickoff.
Louisiana (-3, 51) at UAB
This is one of the most significant sharp movers of the week. Interestingly, we've seen sharp money on UAB at multiple points throughout the season, but Louisiana has taken pretty much one-sided money throughout the week. This line was UAB -2 and is now UAB +3 with some heavy hitters on the Ragin' Cajuns. With a five-point move crossing zero to a key number, it is hard to see this line going higher to 3.5, but we also haven't seen much love for UAB yet.
Georgia Tech at Boston College (-3.5, 54.5)
Something of a throwaway game for a lot of people, we've seen this Georgia Tech vs. Boston College line drop from -4 to -3 with little nibbles throughout the week. Right now, 3.5 is still the prevailing number in the legal U.S. sports betting markets, but there are some -3s out there globally that suggest that this line is not done moving down. Boston College has been more impressive overall, but the underdog Yellow Jackets are taking more of the respected money.
Notre Dame (-9.5, 41.5) at Pitt
Here is a game where we have seen significant movement on both side and total. Early money hit Notre Dame and the under. This line actually peaked at 11 at some places before meeting resistance on Thursday into Friday. The total has been hammered down from the upper 40s to the low 40s and this is not a weather-based move. This is significant sharp action with a totals move of six points to the under. It would seem that under money is very sharp here and that we have some sharp money on both sides of the spread, unless the Notre Dame move early in the week was to inflate the number to hit it harder when higher limits popped up on Thursday.
Virginia Tech (-9.5, 68) at Wake Forest
This is not a sharp move in my estimation. Maybe there are some respected individuals or groups on this one, but the gradual nature of the line move suggests that the sportsbooks are just heavy on the Virginia Tech side and are trying to find the right spot to get Wake Forest money back. My guess is that it will take a move to 10 before the line meets any resistance. I don't see this as sharp money. It is important to attempt to read the markets to differentiate between sharp money and just an unbalanced sheet for the books.
Houston (-15, 55.5) at Navy
This is more of a sharp move to me. We aren't talking about any key numbers with a move from 12 or 12.5 up through 14, but Houston has taken a lot of money from bettors that shape the market to this point. There aren't a lot of Navy supporters out there. That's why 14.5 wasn't even enough to stop this line. Remember, public money can often be on the same side as sharp money. The difference is that sharp money takes 12.5, 13, and 13.5 and the public piggybackers take the scraps at 14 and 14.5.
Penn State (-5.5, 62) at Indiana
This feels like a spot with sharp money on Indiana. We haven't seen a line move of great significance because the expectation would be public money on Penn State. Something to keep in mind is that sportsbooks don't always want to balance the books. Sometimes there are positions they are more comfortable taking. Here, they are welcoming some sharp money on Indiana because the public will balance things out on Penn State. I think as this game approaches, we'll see this line go down even more because I think they'll be comfortable needing Indiana to win. This feels like a sharp vs. public split game and they'll be rooting in the sharp side. Of course, the presence of Indiana in the sports betting world and a lot of homer Hoosier money could throw my theory off.
Baylor at Texas (-9, 60.5)
Under money and underdog money are the stories in this one. It would appear that the more respected bets are on Baylor, but that this game is getting okay two-way action. After all, Baylor hasn't played in three weeks and it hasn't been a great look for the Bears to this point. While we've seen nibbles of sharp money on Baylor, the sharp action on the total is what stands out more to me. Texas has played four overs this season, but the total is coming down. That is a clear indication of sharp money on the under.
Cincinnati at SMU (-2.5, 55.5)
This was a sharp position very early in the week to flip the favorite in this AAC contest. SMU money came in heavy to make the Mustangs a favorite over the Bearcats. This is the second straight week that Cincinnati has been bet against by sharp money. Last week's line against Tulsa moved down before the game was cancelled because of COVID concerns. Sharp money is very much against Cincinnati right now. Keep that in mind when openers pop for next week.
Oklahoma (-6.5, 59.5) at TCU
Here's another one like the Baylor/Texas game. Oklahoma is 3-1 to the over and all three Big 12 games have gone over. TCU even played two overs to start the season before an under with some weather against Kansas State. The total has come down from 62 to 59.5, which is very much a sharp move. Anytime you see totals moving down with high-scoring, public teams, you can guarantee that respected money is behind it.
Auburn (-3.5, 70.5) at Ole Miss
Sometimes the moves that you don't see are significant. You won't find a lot of Auburn support out there these days, but this line hasn't moved since initially settling in at 3.5. This means one of two things. It means that no sharp money of consequence is on the game or that bookmakers don't want to go down to 3 despite public money coming in on Ole Miss. This feels like a line in the sand from the sportsbooks. We'll see if they have to budge. It is very surprising to me that 3.5 is still there. I expected this to be down to 3 by now.
South Carolina at LSU (-6, 55)
This total has moved down four points because LSU QB Myles Brennan is out. This isn't an indication of sharp money one way or another. Again, it's important to know and understand the nature of line moves.
Maryland at Northwestern (-11, 55)
We don't equate Northwestern with over money, but we're getting it here. This total has peaked at 55 at some places for the game against Maryland. We've also seen some early positions on Northwestern to bump the line from -8 up to -11. This is a commentary on two things – the first is that Northwestern has Indiana transfer Peyton Ramsey at QB. The second is that I think sharp bettors like Mike Bajakian, the new Northwestern OC. Anything that bucks a trend, narrative, or perception is usually sharp in nature. Remember that.
Hawaii at Fresno State (-3.5, 65.5)
This has been one of the more notable movers of the week. Hawaii started as high as 6 in the market and has come down to 3.5. We're talking about a corridor of some important numbers. You don't worry as much about the value of the key numbers with a total of 65.5, but this is still much more significant than say 15 down to 12 or something like that. Hawaii has a new coaching staff and a lot of changes. Fresno State brought back Kalen DeBoer, so you would think continuity would be on the side of the Bulldogs, but sharp money prefers Hawaii and does so in a big way here.
Michigan (-3, 54) at Minnesota
We've got limited movement in this game, as it would seem that the sportsbooks pegged the side and total correctly for this game, at least for now. The weather looks questionable in Minneapolis on Saturday with cold temps and some snow flying around, so the expectation here would be public under money when they see the forecast. Otherwise, again, sometimes it is the moves that you don't see and what we see here is that this line appears to be correct.
Kentucky (-5.5, 47) at Missouri
Buried all the way at the bottom of the board is this rescheduled game between Kentucky and Missouri. We saw some 4.5s pop up on Thursday, but Kentucky money has come back in to bump the favorites back to 5.5. This line feels ripe for a line movement on Saturday. So far, the public money is on Kentucky. My guess is that sharp money hits Missouri and my guess is that we could see this line go as low as 4 by kickoff with a sharp vs. public split.